Daniel Radcliffe will play Weird Al Yankovic in a biopic
Not sure if this is cursed or blessed news, but either way I'll be watching.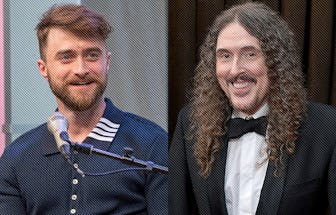 Neilson Barnard/Getty Images for The Recording Academy
If you're younger, the name Weird Al Yankovic probably doesn't mean much to you. "He's that weird old guy, right?" one friend might say. "Didn't he sing parody songs or something?" the other might posit in passing. But to some of us, Weird Al was a formative introduction to parody comedy, as well as shock humor, and some PG-13 references. He was the person whose videos you'd show each other on the dial up internet on the family computer, hoping your parents wouldn't come in because you weren't sure if you were supposed to be watching him. He was the king of tacky ridiculousness. Over time it feels as if that persona has calcified into a parody of a parody. By constantly making jokes, Weird Al became a joke; it was a self-fulfilling prophecy, but one he created and signed up for. But now Weird Al's legacy will have an epilogue — Daniel Radcliffe is set to play the legendary musical comic in an upcoming biopic.
Yankovic said in a press release, "When my last movie UHF came out in 1989, I made a solemn vow to my fans that I would release a major motion picture every 33 years, like clockwork. I'm very happy to say we're on schedule," adding cheekily that he is, "absolutely thrilled that Daniel Radcliffe will be portraying me in the film. I have no doubt whatsoever that this is the role future generations will remember him for." Titled Weird: The Al Yankovic Story, the film will debut on the Roku Channel via Funny Or Die and Tango. The film was co-written by Yankovic and Eric Appel, who also wrote a parody trailer of the same movie for Funny Or Die in 2010. Appel will direct Weird as well.
The film is sure to have plenty of material to work with, considering Yankovic's illustrious comedic career. He might be a gag artist, but he's also a five-time Grammy award-winning comedy icon. His impact on culture from the late 80's through the early aughts is undeniable. And while most of his hits would be considered highly problematic by today's standards, I'd wager most adults who were kids of the era remember the first time they saw the video for "Amish Paradise" and just about died laughing. It was a different time, and Yankovic certainly soundtracked a lot of school yard laughter. While he loved to bastardize songs, over time musicians often courted his parodies. The late Michael Jackson even let Yankovic use the subway set from his music video for "Bad" for his parody titled "Fat."
Radcliffe is certainly a star in his own right as well, and his casting adds a level of seriousness to the film. But at the same time, sometimes it feels as if Radcliffe's fame is stained by his days as a child star. He played the lead in the blockbuster Harry Potter film series, and despite many roles since the franchise ended in 2011, like Trainwreck and Kill Your Darlings, his resume isn't as epic as a Hollywood A-lister might want it to be. It just doesn't feel like his name is as much of a make or break billing for a film. And yet he has a playful side. His role in Swiss Army Man as a corpse certainly showed the absurdist comedic chops that will be necessary to portray Yankovic. And having also been bold enough to help revive Equus on Broadway, it also feels like Radcliffe has the guts it will take as well. While Yankovic might have been being tongue in cheek, this really could be the role that people finally start associating Radcliffe with over Harry Potter.
Roku's Head of Original Scripted Programming Colin Davis said, "There clearly aren't enough biopic movies about famous musicians and we were excited to shine a light on the incredibly true, unexaggerated story of Weird Al...This is sincerely the ultimate combination of talent, creativity, and friends, coming together to make something genuinely funny and we could not be prouder to call this film a Roku Original." From the statements of those involved, it's clear that this film will be equal parts a joke and another chapter in the legend of Al Yankovic — one that is most of all certain to be weird. And with underrated favotire, Radcliffe, starring, we're certain to get a fresh take on everyone involved.