Here are the best cheap gifts on Amazon & they're selling fast
Neat little things for everyone on your list.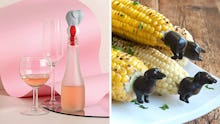 We may receive a portion of sales if you purchase a product through a link in this article.
Shopping for others is an activity that brings out the best in many of us. It's fun to spend time contemplating what small item will brighten the day, or every day, of our friends and family. But it's easy to feel tapped out — financially and creatively — after a few brilliant insights and clever discoveries.
But, you can't quit after one or two gifts. There are people — at work, at home, at parties, in the book club — who deserve gifts and may be more challenging to shop for. However, I'm here to tell you there's a perfect little something for everyone on your list, and it doesn't have to be hard to find.
I did the legwork for you (and it's my pleasure). Here are the best cheap gifts on Amazon. They are selling fast, though, so don't procrastinate or hesitate. All you have to do is click and you will be the one who crushed it at gift-giving this year.