Michaela Jaé Rodriguez makes history as first transgender actor to win a Golden Globe
Her win for her role in Pose is the best thing to come out of awards season, maybe ever.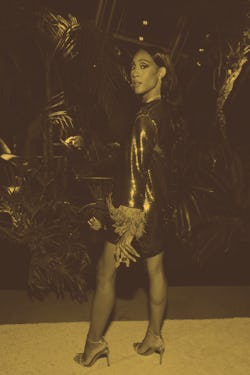 Emma McIntyre/Getty Images Entertainment/Getty Images
It's pretty generally agreed upon at this point that the big awards shows are insular, self congratulatory celebrations that are light on self awareness and heavy on displays of privilege. It's also come to light over the years that many of the entertainment institutions who run their respective award ceremonies are problematic in their handling of inclusivity, and are even sometimes corrupt in how they allow people to court awards. That was especially the case for this year's Golden Globes and its parent organization, the Hollywood Foreign Press Association. The HFPA continued to fail to cultivate a diverse membership, even after it was revealed that in 2020 their press pool had zero black members. Members were also criticized for accepting lodging paid for by Paramount in $1,400 per night five-star hotels as they visited the set for Emily In Paris. As a result, they were forced to cancel their typical boozy, fancy dinner-party-meets-awards-ceremony for 2021. The Golden Globes awards this year were demoted to a press conference from the Beverly Hills Hilton. But despite the drama, one fantastic thing came out of Sunday night's reveal of this year's winners: Michaela Jaé Rodriguez became the first openly transgender actor to win a Golden Globe.
Rodriguez won Best Actress in a TV Drama for her role of Bianca on FX's Pose. She took to Instagram to celebrate her decidedly historic victory, writing, "This is the door that is going to Open the door for many more young talented individuals. They will see that it is more than possible. They will see that a young Black Latina girl from Newark New Jersey who had a dream, to change the minds others would WITH LOVE. LOVE WINS. To my young LGBTQAI babies WE ARE HERE the door is now open now reach the stars!!!!!" It's a hopeful moment in a world that seems to have shrinking reasons to celebrate.
Rodriguez's win also is further evidence that representation in entertainment matters. It feels like to all the people (like Aaron Sorkin) who don't think it's paramount to make room for queer people to tell their own stories in the heavily heteronormative world of Hollywood, Rodriguez and the stars of Pose said a big, queer "boo." This win is proof that when we let people from the LGBTQIA community be the stars of their own stories, not only does it help to destigmatize queerness, but it also brings queer joy and celebration into the entertainment world. These wins should not be so hard won, and the more inclusion of a vast array of identities beyond white, straight, cisgender ones on screen is what leads to these kinds of monumental accolades being given to queer people. We cannot celebrate the LGBTIA community when we can't see them.
There's long been discussion of whether award shows should stop gendering awards completely. Many argue that awards should simply be given to "performers," rather than having to distinguish between actor and actress, or female or male musicians, etc. The way that awards are given out based on gender greatly excludes non-binary identities, and propels the heteronormative glaze that obfuscates most things. But Michaela Jaé Rodriguez's inclusion in and win of the award for Best Actress is huge progress for transgender representation, regardless. We still have work to do to figure out how to include and represent everyone, especially as the ways people want to identify have blossomed, but making sure that transgender men and women are included in any space they prefer to be is essential in protecting and celebrating the community. Hopefully Rodriguez's win is also indicative of real, meaningful change happening in the HFPA. A big congratulations to Michaela Jaé Rodriguez, and cheers to all of the LGBTQIA talent that will hopefully be spurred on by her historic win.
Correction: An earlier version of this article misnamed the character Michaela Jaé Rodriguez played on Pose.