Quip's limited edition mint green brush is its most covetable one yet — & it supports a good cause
Get one before they sell out.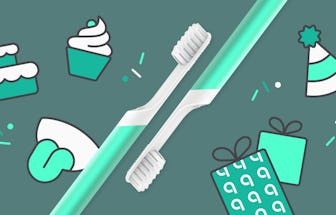 Quip
We may receive a portion of sales if you purchase a product through a link in this article.
Whether you're already a Quip evangelist or you've been Quip-curious for a while now, the brand's birthday celebration is a great chance to nab a new toothbrush — namely, its chic, limited edition Birthday Brush that features a mint green metal handle and all the convenient features Quip is known for. This highly covetable brush promises not only to level up your oral health (and bathroom counter aesthetic), but also do some good in the world. In honor of turning 8, Quip is donating brushes and a full day of oral hygiene services to Remote Area Medical (RAM). Here's everything you need to know about the special edition Quip drop.
About Quip's exclusive Birthday Brush
Quip celebrated its 8th birthday on 2/2, and according to the brand, that launch date was originally chosen because the toothbrush encourages 2 minutes of brushing, two times a day. The limited edition Birthday Brush comes with the classic 2-minute timer that works in 30-second intervals to gently clean all four areas of your mouth. All Quip brushes look sleek, but the exclusive mint green one looks extra fresh — and like any good collectible item, you'll relish telling your friends that you got it before it sold out. Plus, with the Birthday Brush, you also get a free pack of ADA-accepted sugar-free gum that comes in a custom travel pack.
For those new to Quip, it's worth noting that all of the brand's compact, electric toothbrushes come with a 3-month battery life and mirror mount, which means no annoying cords or stands cluttering up your counter space. Bonus: The mirror mount doubles as a travel case.
How Quip is giving back
The newly minted 8-year-old company partnered with RAM, a non-profit that provides free healthcare and pop-up clinics to those in impoverished or underserved areas. To help with RAM's dental outreach, Quip donated a full day of dental services and toothbrushes so that more people could access to quality oral care. While it's not a one-to-one giving model, meaning that buying a toothbrush doesn't then donate one to someone in need, the company's commitment to paying it forward is still refreshing.
More Quip products to try
Of course, the electric toothbrush isn't the only item worth trying from Quip's lineup of innovative oral health products. Here are just a few of the brand's other best-sellers — and there's something for every budget.
The Anti-Cavity Toothpaste
Quip's Anti-Cavity Toothpaste comes in two yummy flavors — mint and watermelon — and lasts a long time (up to 3 months). The SLS-free toothpaste is formulated with fluoride and xylitol for the healthiest smile, and reviewers love that it comes in a recyclable tube. One shopper raved, "It is minty, but it doesn't have that unnecessary burning feeling many other toothpastes [had]. My teeth just feel super clean!"
The Mouthwash Starter Kit
Mouthwash is fairly easy to use but the big, bulky bottles can be an eyesore. Enter: Quip's Mouthwash Starter Kit. The sleek, compact dispenser is available in six trendy hues and dispenses with a push of a button into the included dosage cup. The ultra-concentrated, xylitol-based mouthwash is alcohol free, too. One reviewer noted that "it has a great taste and it doesn't burn my mouth" and another shopper reported that "it looks beautiful on my vanity."
The Rechargeable Water Flosser
Flossing can be a drag but with this easy-to-use water flosser, you can effortlessly work in flossing into your daily routine. Simply fill the reservoir up with water, select a pressure and flow mode, and use the 360-degree rotating tip to reach every angle. The battery can last up to 8 weeks before needing a charge with the included magnetic charging cable. Reviewers rave that this flosser is "fantastic," "handy," and according to one gushing shopper, "actually perfect."