Why Dionne Warwick asked Snoop Dogg to call her a "b*tch" in the '90s
It was a legendary teachable moment.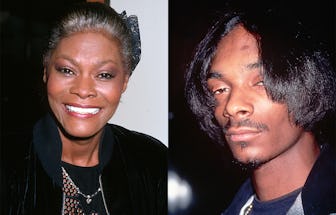 Jim Smeal/Ron Galella Collection ; Mitchell Gerber/Corbis/VCG via Getty Images
Music legend and reigning Twitter Queen Dionne Warwick has never been one to bite her tongue. From teasing Chance the Rapper's very obvious stage name to her real-time assessment of Cardi B and polite plea to Jake Gyllenhaal, the multi Grammy-winning artist remains her straightforward self — no matter who's at the receiving end of her lighthearted roasts or criticism.
In CNN Films' new documentary, Dionne Warwick: Don't Make Me Over, Snoop Dogg and Warwick shared that the former experienced this firsthand early on in his career. In the film, the rapper recalled how Warwick invited him, Tupac Shakur, Death Row Records co-founder Suge Knight, and other prominent rappers to her home in the early '90s for an early-morning discussion about their music.
"We were kind of like scared and shook up," Snoop Dogg said upon receiving the invite. "We're powerful right now, but she's been powerful forever. Thirty-some years in the game, in the big home with a lot of money and success."
The group was so intimidated by Warwick that they arrived for the 7 a.m. meeting early — 6:52 a.m., Snoop recalled — and waited in her driveway. To their surprise, upon entering Warwick's home, the "I Say A Little Prayer For You" singer asked her guests to call her a "bitch," calling out the misogynistic way they regularly referred to women in their lyrics. "These kids are expressing themselves, which they're entitled to do," she said in the new documentary. "However, there's a way to do it."
"You guys are all going to grow up. You're going to have families. You're going to have children," Warwick said in the film, reflecting on the teachable moment. "You're going to have little girls, and one day that little girl is going to look at you and say, 'Daddy, did you really say that? Is that really you?' What are you going to say?"
The event was enough to change Snoop's perspective on the matter. "She was checking me at a time when I thought we couldn't be checked," explained Snoop, who at the time had only released his first studio album, Doggystyle. "We were the most gangsta as you could be but that day at Dionne Warwick's house, I believe we got out-gangstered that day."
Snoop then did what anyone called out by Warwick would have the commonsense to do: He cleaned up his act with his subsequent albums. "I made it a point to put records of joy – me uplifting everybody and nobody dying and everybody living," he said. "Dionne, I hope I became the jewel that you saw when I was the little, dirty rock that was in your house. I hope I'm making you proud."