Your city might be hosting secret concerts featuring the next big artists — Here's what you need to know
Billie Eilish and Leon Bridges have made appearances at these intimate shows.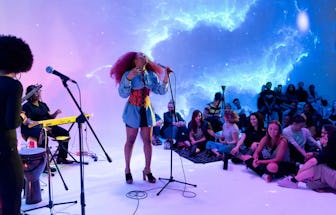 Sofar Sounds
We may receive a portion of sales if you purchase a product through a link in this article.
While you go about your typical day-to-day routine, secret concerts are being planned right under your nose. These events hosted by Sofar Sounds feature some of the biggest, soon-to-be-discovered artists — and they're currently taking place in 400 global cities. Yours might be included.
What's a Sofar Sounds show?
These inclusive, one-of-a-kind concerts feature three artists per show who perform in an intimate setting, allowing the audience to discover new artists and connect with their music in a way that'd be nearly impossible at a standard crowded concert venue.
You won't know who's performing before the event; that part's a surprise. But major artists like Leon Bridges, Billie Eilish, Hozier, and more have played Sofar Sounds shows in the past — so you never know which musicians you'll come across when you attend (famous or soon-to-be).
Where are these shows happening?
The exact location of each concert isn't revealed until the day before the show. Still, these concerts are taking place in cities all over the world in both commercial and residential spaces. (Seriously, they can take place anywhere from a hip rooftop downtown to someone's house down the street.)
To find out exactly where a Sofar Sounds show is happening near you, head to the company's website and search for your city. If your area is hosting these concerts, they'll load as "Upcoming Sofar Events" in the city you searched. The general areas of the venues will be revealed, along with the dates and times of the shows. Once you've purchased a ticket, you'll finally know the exact venue address.
How can I get involved?
If stardom is in your own future and you're hoping to perform at a Sofar Sounds show, you can sign up and begin the application process here. If performing isn't your thing and you'd rather host a Sofar Sounds show instead, you can share details about your space and apply here.