The Locker app makes it easier to save, curate, and share your shopping list on your phone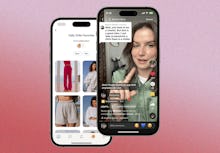 Locker Mic
We may receive a portion of sales if you purchase a product through a link in this article.
As a shopping writer, I'm always on the lookout for new and interesting products — whether or not I'm on the clock (after all, there's a reason I ended up in this field). At any given moment, you're likely to find me drowning in dozens of open tabs with products that piqued my interest. And my phone is full of screenshots from Tiktok and Instagram with things I want to remember to add to cart later or to DM a friend for a second opinion. And while I'm uniquely positioned to be hoarding leads on new products, I know I am not the only one that finds the user experience of shopping on social media frustrating — it's a hurdle that companies have been trying to overcome for years. But now, one company has made a major leap forward in that arena. Let me introduce you to the new mobile app, Locker.
What is Locker?
Savvy shoppers may already be familiar with Locker as a Google Chrome extension that allows users to curate and organize wishlists. Now, with the launch of the Locker mobile app, you can get the same convenience of having a centralized platform to save, curate, and share products right on your phone.
The app aims to simplify shopping online and on social media by allowing you to easily save items into personalized collections like "Paris Trip" or "Kitchen Glowup," offers inspiration through following friends and other shoppers, tracks purchases, helps you to discover new products, and even lets you create shoppable outfit collages. By consolidating your finds in one place, Locker eliminates the need for scattered screenshots and jumbled tabs, providing a seamless shopping experience.
According to the company's founder Kristine Locker, it's not just about making purchases; it's about fostering a social community around shopping and fashion. Locker allows shoppers to effortlessly save, curate, and share their favorite products with friends and followers, empowering them to create their own virtual boutiques.
How it works
Simply search for "Want Locker" on the App Store and download the app. If you already have an account, sign in; otherwise, create a free one to start. Once you're in, you'll be served curated collections by Locker, a carousel of suggested creators to follow, and trending collages from the Locker community. From there, you can begin your shopping journey, saving and sharing products seamlessly within the app.
The true magic of Locker comes when you want to add your own finds to the app. I have used similar-ish platforms in the past, and I have never seen something so seamless. Frist, you'll need to get the product open in your browser, and then just tap the share button (or if you are in the Instagram environment, go to the menu in the top corner and tap "share via") and select the Locker icon. The Locker app will automatically open and import all the relevant information. You'll then have the option to choose the image you want to showcase, edit the product title, and select the collection to which you want to add the item—or create a new collection entirely.
My experience
Getting set up on Locker was very easy; you just enter your email and set a password — there are no additional "getting to know you" surveys that provide fodder to an algorithm.
Once inside, I liked how easy the app was to navigate. You can browse new products in the Discover feed, search by brand, or see the latest from friends you follow. The current featured curations are fashion heavy which is not surprising, fashion is part of the app's ethos, but I like that it's not necessarily strictly for clothes. You can import any product from home decor to beauty products to food, etc. Personally, I made a collection of some of the non-alcoholic libations I've been wanting to try, and I'd love to see others curate some ~ aesthetic ~ Snaxboi-esque collections to shop on the app, too.
That brings me to importing products into the app. The first time I imported a product, I was on Instagram. I came across a dress in a story, and I wanted to save it. Once I opened the product webpage (still within the Instagram environment), I went to the drop-down menu in the top right-hand corner of the screen and tapped "share via." From there, I saw the Locker icon. If you don't immediately see the icon, you just need to press the "see more" icon, it will bring up a list of apps, and Locker should be there.
Once I selected the Locker icon, the app opened automatically and started importing all the product details. It only took a few seconds, and I was given the option to select from a few photos, edit the product name, and choose the collection (or create a new collection) to add the product to. The whole process was done in less than a minute. I was genuinely pretty impressed with how easy it was.
Final verdict
I've been using the Locker app for about a week, and I've honestly really been enjoying it. It's easy to use, genuinely useful, and I've even been enjoying shopping from within the app itself. It's free to make an account and I've already recommended it to a few friends.