Tyler Perry has some concerns about Hollywood's diversity push
The director said he was excited about more opportunities for Black creators, but expressed reservations about who is actually qualified for the seats getting filled.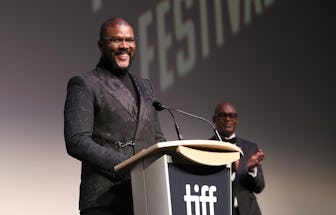 Jemal Countess/Getty Images Entertainment/Getty Images
During his keynote address at the Toronto International Film Festival this past weekend, Tyler Perry offered what he hoped to be a carefully worded take on the increased diversity in Hollywood in recent years. According to Deadline, the multi-hyphenate filmmaker and mogul said he was happy about the ways that the industry has pushed for more opportunities for Black creators, but added that he was concerned that, as a result, some were being put into positions they are not qualified for.
"Let me be very careful on how I say this, be diplomatic," Perry said, answering a question about the sea change in Hollywood. "I'm extremely excited for what's happened with diversity and the choices and opportunities that we're seeing for Black people for the first time, it is amazing. But I worry because there is such a push for diversity and push for hiring people of color that I found situations that there are people being pushed into seats they're not ready for."
Perry referenced the type of comprehensive experience and training that people get at his own production company, Tyler Perry Studios, and how quickly they are "snatched up to go to some bigger production."
"What I don't want to have is Black people in seats that we weren't ready for, and then have people that are not Black that were moved out of seats. … If we didn't get qualifications, the teaching, or the education to get there, then how are we given the seats so quickly? It's my hope that in all of this change and this push for there to be more inclusion, we're also providing time and training to make sure we can do a great job."
The remarks strike a somewhat controversial note — particularly among the Hollywood elite, the company line is to say that greater representation in the industry is important and good.
On the one hand, Perry's message is worth considering specifically coming from a decorated and veteran Black creative who has undoubtedly seen and experienced the lopsided inner workings of Hollywood in a way that few have. And he is making a general point with ostensibly well-meaning intentions: those who move up the ladder should be given the resources to grow and prepare themselves for higher positions of power.
But the idea also comes close to echoing a sentiment that is often levied against Black people and minorities within any industry — that things ought to be "merit-based," and there simply isn't a substantial pool of qualified people of this or that minority group. Of course, the idea of a pure meritocracy is a myth, and this is especially true in Hollywood — where the idea that hierarchies are structured around qualifications or experience is practically laughable — perhaps more than any other industry in existence, so the logic might come off as somewhat vague and dubious gatekeeping.
Perry, though, whose influence and presence as a modern Black trailblazer in the industry, for better or worse, is undeniable, should be given the benefit of the doubt. His production company likely does actually incubate talent in a way that few Hollywood apparatuses have, if ever. His attempt at a more complicated response here is also a nice change of pace from the one-dimensional praise that most industry folk parrot about how important diversity is. If Perry is truly helping to create those channels of experience to open doors rather than reinforce a tired excuse typically used to close them, then all the power to him.