You're making your house kinda gross if you aren't doing any of these things
Grime, mold, and messes can lurk in a lot of unexpected places.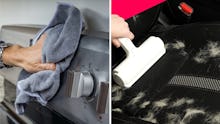 We may receive a portion of sales if you purchase a product through a link in this article.
Gross might be a little harsh, but if you've ever gone to dust above your kitchen cabinets only to discover they're caked in grease (raises hand) or washed your dishes only to find the stink of your sponge has left them smelling dirtier than how they started (raises hand again), you'll know that even when you try to keep your home clean, messes can lurk in a lot of unexpected places.
Luckily, I've put together this list of things you arguably should be doing in order to avoid grime, mold, and messes from sneaking up on you.
From odd-smelling washing machines to faded hardwood floors, there's a little something in here for homes all across the gross spectrum. And since sticking to a budget is just as important as keeping a clean home, I've also made sure that each solution listed below shouldn't set you back more than $40.