FEMA sent Native Alaskans a lot of gibberish after a natural disaster
Turns out "Your husband is a polar bear, skinny" means nothing in English or Iñupiaq.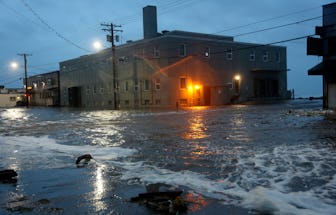 Peggy Fagerstrom/AP/Shutterstock
What started as an attempt to take a more inclusive approach in offering aid to Alaska residents amid the damaging aftermath of Typhoon Merbok turned sour when disaster relief aid documents shared by FEMA were found to be riddled with strange and inaccurate translations.
In the aftermath of the September 2022 natural disaster, which has caused over $28 million worth of damage, FEMA provided those impacted with instructions on how to file for federal aid. Because many of the affected residents don't speak English as their primary language, FEMA sent paperwork in prominent Native languages like Yup'ik or Iñupiaq — except it was far from accurate or helpful. The documents included nonsensical phrases, including passages that translate to, "Tomorrow he will go hunting very early, and will Alaska nothing" and, "Your husband is a polar bear, skinny," KYUK Public Media reported on Jan. 7.
The week following KYUK's report, FEMA recently addressed the mistranslations and confirmed that they've cut ties with the California-based company, Accent on Languages, that was hired to take on the task. "We make no excuses for erroneous translations, and we deeply regret any inconvenience this has caused to the local community," Caroline Lee, the CEO of Accent on Languages, said in a statement, per NBC affiliate NECN. Lee also shared that the company will refund FEMA for the project — that's a total of $5,116 — and launch an internal review to determine what went wrong and prevent future mistranslations. FEMA spokesperson Jaclyn Rothenberg said the snafu has not delayed financial aid; so far the agency has paid out about $6.5 million.
In 2021, the Yup'ik people made up the largest Alaska Native community that year, closely followed by the Iñupiat people, according to a report from the International Association for Indigenous Aging. Currently, the Central Alaskan Yup'ik is the most spoken of the Native languages, with 10,000 speakers in 68 villages ​​across southwest Alaska using it as their primary form of communication.
Though it may not have delayed disaster aid, the FEMA mistake highlights a bigger issue that Alaska Natives have faced for years. Many communities are angry, frustrated, and concerned that this carelessness contributes to — and could possibly accelerate — the erasure of the Natives' languages and cultures. The mistranslation, which according to linguist Gary Holton was likely created with direct help from the 1940s Rubstova texts that feature folklore about the Yup'ik culture, is insulting to past, present, and future generations.
"I mean imagine if someone, you know, took all of your folktales and then interviewed your great-grandmother about her experiences growing up. And had all of this information recorded, and wrote it down, and then scrambled it and stuck it in various different ways and made kind of a collage out of it," Holton, a linguistics professor at University of Hawaii at Manoa and the former director of the Alaska Native Language Center at the University of Alaska Fairbanks, said to KYUK. "It's offensive."