11 Empowering Quotes About Gender Equality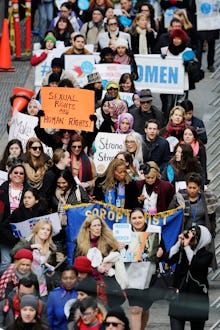 August 26 is Women's Equality Day in the United States. It commemorates the passage of the 19th Amendment to the Constitution in 1920, which guaranteed women the right to vote.
Every year since the country recognized the first Women's Equality Day in 1972, U.S. presidents have declared their support for expanding women's rights. "When women succeed, America succeeds," President Barack Obama said in a White House statement, published Monday. "Every woman should have the chance to dream, grow and thrive free from intimidation or violence."
The United States has made great strides in leveling the playing field for women, however the work is hardly over. Women workers still make around 77 cents to every dollar earned by men for the same work, according to U.S. Census Bureau data. There are more CEOs named John than there are women CEOs, Newsday reports. 
But the gender gap doesn't stop there. Women are also at greater risk when it comes to sexual assault. According to the National Sexual Violence Resource Center, 1 in 5 college women are sexually assaulted during their undergraduate careers, compared to one in 16 college men. 
Here are 11 empowering quotes about gender equality to share on Women's Equality Day: 
1. Alice Walker: "The most common way people give up their power is by thinking they don't have any." 
2. Maya Angelou:
3. Margaret Thatcher: "Being powerful is like being a lady. If you have to tell people you are, you aren't."
4. Madonna: "I'm tough, I'm ambitious and I know exactly what I want. If that makes me a bitch, OK."
5. Emma Watson:
6. Eleanor Roosevelt: "A woman is like a tea bag: You never know how strong she is until she gets in hot water."
7. Rebecca West: "I myself have never been able to find out precisely what feminism is: I only know that people call me a feminist whenever I express sentiments that differentiate me from a doormat."
8. Malala Yousafzai:
9. Madeleine Albright: "It took me quite a long time to develop a voice, and now that I have it, I am not going to be silent."
10. Roseanne Barr: "The thing women have yet to learn is nobody gives you power. You just take it."
11. Lois Wyse: "Men are taught to apologize for their weaknesses, women for their strengths."