John H. Johnson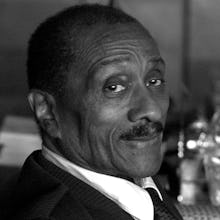 This article is part of the Black Monuments Project, which imagines a world that celebrates black heroes in 54 U.S. states and territories.
John H. Johnson was one of the most prolific black publishers of the 20th century. The publishing maven built his multimillion-dollar Johnson Publishing, which included Ebony and Jet magazines, from the ground up. Johnson's glossies documented the beauty and struggle of the black experience in the United States.
Johnson was born on Jan. 19, 1918, in Arkansas City, Arkansas. There were no black high schools in the city, so after he repeated eighth grade instead of dropping out, his mother moved him to Chicago. At DuSable High School, Johnson served as editor of the school newspaper.
After graduating, Harry Pace, president of Supreme Liberty Life Insurance Company, one of the largest black-owned insurance companies at the time, hand-picked Johnson to work for him. One of Johnson's tasks was to gather news clips about black people, the New York Times reported. This inspired Johnson to create his first publication, a journal featuring political essays, poems and other pieces by black writers called Negro Digest, in 1942 — which later became Black World, according to the website The HistoryMakers. Johnson secured a $500 loan by using his mother's furniture as collateral and raised $6,000 from early subscribers to launch Negro Digest, which planted the seeds of a media empire that would later become a fixture in black households across the United States.
In 1945, Johnson published Ebony, the first magazine to celebrate black lifestyle and success, and it became the most-circulated black publication in the country, as Johnson noted in a 1985 issue. In 1951, Jet, a weekly news digest, went to print.
Ebony and Jet played a key role in documenting the civil rights movement. Jet published an image of Emmett Till's open casket in 1955, and Ebony featured an advice column written by Martin Luther King Jr., according to Biography.com. In 1973, Johnson expanded his empire with his wife, Eunice, launching Fashion Fair Cosmetics, which catered to dark-skinned women.
After 40 years in the publishing business, Johnson became the first black person named to Forbes' list of wealthiest Americans, in 1982, the New York Times reported. Johnson was also active in Chicago politics, helping to elect the city's first black mayor, Harold Washington, in 1983, according to Biography.com.
Johnson received the Presidential Medal of Freedom in 1996. In 2002, he passed down CEO duties to his daughter, Linda, Biography.com said. Johnson died on Aug. 8, 2005, at the age of 87, and more than 1,000 people attended his funeral. For his pioneering work in the media industry — and for elevating black voices — The Black Monuments Project honors him today.