Mary Annette Anderson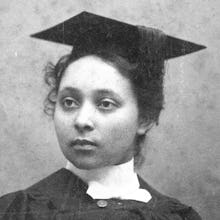 This article is a part of the Black Monuments Project, which imagines a world that celebrates Black heroes in 54 U.S. states and territories.
Mary Annette Anderson was the first black woman to graduate from Middlebury College in Vermont. She was also valedictorian of her class and was the first black woman elected to the prestigious honor society Phi Beta Kappa.
Vermont's history as the first state to ban slavery in 1777 made it a place of relative opportunity for former slaves like Anderson's father, William Anderson, according to Middlebury's website. After the Civil War, he traveled north to purchase his own farm and eventually married Philomine Langlois, a French Canadian and Native American woman. Mary Annette Anderson was born in 1874, and her formal education began at the Shoreham School and continued in the Northfield Seminary for Young Ladies in Massachusetts.
In 1823, Middlebury College became home to the first black person to earn a bachelor's degree. Just nine years after the first woman graduated from Middlebury, Anderson started her education at the college in 1895. Upon graduating in 1899 as a valedictorian, she became the first black woman admitted to Phi Beta Kappa, the oldest and one of the most prestigious honor societies for the liberal arts and sciences. Anderson's commencement address to students, faculty and parents was titled "The Crown of Culture," and she penned the poem that was delivered at their Class Day celebration.
Anderson went on to teach at two historically black colleges and universities: Straight University in New Orleans (now Dillard University) and Howard University in Washington, D.C., as an English and rhetoric professor. In 1907, she stopped working after marrying fellow faculty member, Walter Lucius Smith, because school rules barred women from being married. To pay it forward to other black women in Washington, D.C., Anderson mentored young black women who had aspirations to attend college, through the College Alumnae Club.
The couple eventually returned to Vermont, where Anderson joined a women's society that encouraged intellectual thought and new ideas. Anderson died in 1922. She excelled above her peers and later provided support for another generation of black geniuses, and for this we honor Anderson's legacy today.