Aaron Lloyd Dixon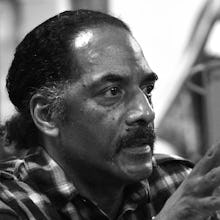 This article is part of the Black Monuments Project, which imagines a world that celebrates black heroes in 54 U.S. states and territories.
Political activist Aaron Lloyd Dixon established the Seattle chapter of the Black Panther Party, which fed thousands of children every day through its Free Breakfast for School Children Program during the 1960s.
Dixon was born Jan. 2 1949. He and his siblings grew up in a diverse middle-class neighborhood of Seattle with Chinese, Filipino and Native American families. His mother was a former teacher, and his father worked at Boeing as a technical illustrator. After experiencing racism in the military, his father was always socially conscious, and encouraged his children to question the inequalities in America.
As a young teenager, Dixon marched with Martin Luther King Jr. and saw activists Stokely Carmichael and H. Rap Brown when they visited Seattle — the first of many demonstrations he participated in. In high school, Dixon was in a group of black students that integrated a predominantly white school in Seattle.
Dixon went to the University of Washington, where he joined the Student Nonviolent Coordinating Committee and met fellow activist Larry Gossett. The young men co-founded the Seattle Area Black Student Union to fight racial injustices on campus and within their local community; Gossett went on to become a city councilman in King County, Washington.
While spending the night in jail for protesting a racial incident at a local high school, Dixon heard the news of King's assassination and soon after — at 19 years old — joined the Black Panther Party.
In 1968, Dixon founded the party's Seattle chapter, the first chapter outside California. The chapter helped launch the Free Breakfast for School Children Program, which fed over 10,000 children every day before school. He also was instrumental in opening a free medical and legal clinic, now called the Carolyn Downs Family Medical Center. By 1972, Dixon had moved to the Black Panther Party at its Oakland, California, headquarters, where he traveled with the party's co-founder Bobby Seale and served as a bodyguard for chairwoman Elaine Brown.
Dixon's work with the Black Panther Party came to an end in 1978 after internal leadership issues, the constant threat of danger and a government probe that would eventually dismantle the whole organization. Dixon helped campaign for Oakland's first black mayor, Lionel Wilson, that same year — his appointment would simultaneously elect former Black Panthers into judiciary roles.
Eventually, Dixon worked as a substance abuse counselor in Seattle and started the nonprofit organization, Central House, to provide transitional housing for homeless young adults. He also ran under the Green Party for U.S. Senate in 2006.
For his contributions to the Seattle community, we salute Aaron Lloyd Dixon for working to fight racial discrimination and ensuring that thousands of children were fed before their school day began.