42 things that significantly upgrade your backyard for under $35 on Amazon
Because making your outdoor area nicer doesn't have to hurt your wallet.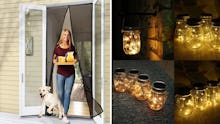 Amazon
We may receive a portion of sales if you purchase a product through a link in this article.
Designing your outdoor space isn't cheap. From buying flowers to shoveling dirt, sprucing up your yard takes effort — and money. But you don't have to spend a ton to get your outside looking picture-perfect. In fact, there are dozens of products on Amazon that'll significantly upgrade your backyard, all for less than $35.
I know what you're thinking — "If they're that cheap, how much of an upgrade can they really provide?" Truthfully, I was blown away at how many of these are genuinely useful. Take the miniature grill, for example. At less than 5 pounds, it's perfect for tight balconies or small patios (and who doesn't love a freshly-cooked steak?). Or, if you're looking for decor, there's also a large canopy you can use to add shade to hot yards, as well as waterproof pillowcases that come in vibrant colors. But personally? I'm a huge fan of this inflatable lounger — especially when I'm out camping, or running around at a music festival with friends.
Working with a budget doesn't mean you can't spruce up your yard into something out of Better Homes & Gardens. And since all the backyard upgrades I've gathered for you here are $35 or less, you'll likely be able to grab more than a few. Trust me — your yard will thank you for it.