42 things under $25 on amazon that you'll use forever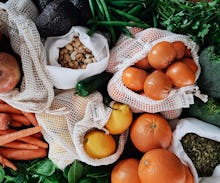 Amazon
It's the small things that count, and these customer-favorite products from Amazon prove it. Whether it's an ingenious power strip that'll save you space (and looks great) or adjustable spice organizers to make cooking a breeze, these little upgrades make every single day better — and all for $25 or less.
Best yet, many of these life-changing gems are eco-friendly alternatives to plastic or other disposables that end up in the landfill. Going green should feel like a choice to be more mindful about how you live, not a grand sacrifice you're making, and the colorful reusable straws, stylish bamboo utensil kit, and sleek mini dustpan here will replace plastics and paper towels while brightening up your space and making tidying up a lot easier. Plus, since these items can stand up to multiple washes and reuses, you'll also be saving a little cash by not having to replace products.
Scroll on for an organic hairbrush that reviewers swear "gets all the tangles out," a machine-washable velvet throw that "feels like a cloud," mixing bowls that double as storage, a natural way to get garlic and onion smells out of your hands, and 38 more choices that will make your life better and you'll use all the time.