43 genius products TikTok is obsessed with because they work SO well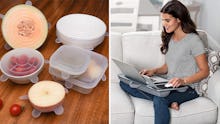 If you enjoy finding new gadgets that make life simpler and easier to navigate, you're going to love these products that Tik Tok users are obsessed with. The obsession is real because these products work incredibly well, but they are also super affordable and extremely easy to use. This list has a little bit of everything you never knew you needed.
Consider a mini bag sealer that reseals snack bags so your last chip is as fresh as your first. It even has a magnet on the back so you can store it on your refrigerator and keep it within reach. Who doesn't need one?
Then, there's a pack of soap sheets that can be used to wash your hands on the go. All you need is a little water, and they're activated and ready to use. They come in a small carrying case that conveniently fits into your purse or bag.
If you're a foodie, you're going to love the avocado tool on this list. It peels, pits, slices, and stores your avocados. You might also enjoy the apple peeler that makes pie prep faster, easier, and more fun by preparing the fruit in one hand-cranked step. They both sound like must-haves to me.
If you've accidentally scrolled past these before on the app, here's the handy list you needed of the brilliant items you've seen on Tik Tok. Keep reading to find your new faves.