43 things that save you money you'll wish you knew about sooner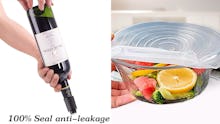 I may splurge on a few things, but I also search high and low for products to help protect my investments so I can enjoy them for years to come. Whether it's an expensive leather couch or my weekly grocery bill, I'm always looking for ways to extend the life of the things I buy. So I put together a list of these 43 things that save you money that you'll wish you knew about sooner. I've shopped around for the best prices, most reviews, and highest-rated goods that will keep you under budget.
On this list, you'll find a handful of reusable products that will save you money over time. You can stop adding paper towels, dryer sheets, K-cups, and even dryer sheets to your shopping list by replacing them with reusable versions. Not only are these products cost-effective (since you only have to buy them once), but the planet will thank you. Trust me, you'll wonder how you went this long buying single-use products.
Another way to save money is to invest in products that help you repair your favorite clothes, furniture, or products. Check out the lint remover I added or the glasses repair kit that comes with 38 pieces to fix loose or crooked glasses. I also included some products that ensure you get the most out of your purchases, such as a stain shield or a green bag that makes produce last longer. These little costs can add up, and shopping smart will save you time and money in the end.
You may regret just finding out about these products, however, I guarantee you won't have buyer's remorse with any of these budget-friendly finds.
We only recommend products we love and that we think you will, too. We may receive a portion of sales from products purchased from this article, which was written by our Commerce team.
This article was originally published on