45 cheap things people recommend the sh*t out of because they're so awesome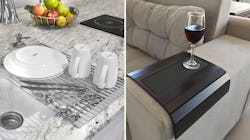 When you're looking for inexpensive but useful products, there's no better place to turn than Amazon. But with so many items to choose from, it can be a challenge to narrow down the ones that will live up to the hype. With that in mind, I've scoured tons of Amazon reviews to compile a list of 40 cheap things people recommend the sh*t out of because they're so awesome.
While they span a wide range of categories, all of these things come highly recommended by reviewers. If you're looking to upgrade your grooming tools, consider an electric razor with a long-lasting battery or a shower mirror that doesn't fog up. Alternatively, stock up on home office products and tech accessories to improve your workflow, including a plug-in signal booster to combat slow Wi-Fi (which happens to have more than 100,000 reviews). Short on kitchen counter space? Score a space-saving dish drying rack that fits over your sink and rolls up when you don't need it. If you're heading outdoors, make sure to take some easy-to-apply insect repellent with you. And if you want to boost your entertainment game, opt for products like a set of LED strip lights to decorate your TV or a wireless karaoke mic that doubles as a Bluetooth speaker — both of which you'll find below.
Keep scrolling for the complete list of cheap things on Amazon that people can't stop recommending. Since all of these products will cost you under $35, you might just want to add more than one to your cart.
This article was originally published on