45 things trending on amazon under $30 that reviewers are obsessed with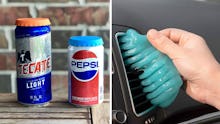 Amazon
After perfecting my internet shopping game, I know how to tell a trend from a quality product. That said, every once in awhile I'm surprised to find that the hot items trending on Amazon are both high quality and really affordable, and I happily add them to my shopping cart without restraint.
The thing about trends is that a lot of things are just novel and not useful. To suss out the good stuff, you need to consider if this product is actually going to make your life more enjoyable or easier in the long run. Take this multi-device charging station, for example. Do you absolutely need one? Not really. But will it make your life so much easier to charge all your devices in the same place, at the same time, and without all those cords? Absolutely.
All that to say: sometimes it's just fun to snag an affordable Amazon trend. Like I already have plenty of light bulbs, but these really fun color-changing smart bulbs can change up my home's ambience with the click of a button. That's a trend that's worth the investment, in my opinion.
Ready to scroll through some of the most affordable trends on Amazon? Here are some of my favorite finds to help you get started.