Anti-ICE protesters in Oregon were pepper-sprayed by federal agents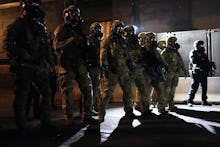 Nathan Howard/Getty Images News/Getty Images
Hundreds of residents in Bend, Oregon, blocked two Immigrations and Customs Enforcement buses on Wednesday in a 12-hour standoff that ended with federal agents pepper-spraying the protesters. The protest started with a local activist by the name of Luke Richter, who is the president of Central Oregon Peacekeepers. Richter heard that ICE might be in the area, and according to The New York Times, found two unmarked buses that he suspected were the federal agency's.
ICE agents were attempting to transport two undocumented Bend residents, both of whom the federal agency said were wanted on criminal charges. ICE would not say what those charges were. One man was detained at a gas station, and another was pulled over on his way to work. Both sat for hours with no air circulation on the buses parked outside the National Guard Armory.
A spokesperson for ICE said of the protesters, "While ICE respects the rights of people to voice their opinion peacefully, that does not include illegally interfering with their federal law enforcement duties. ICE will take all necessary measures to ensure the safety of its officers and detainees, and will vigorously pursue prosecution against anyone who puts them in harm's way."
That afternoon, attorneys with the immigration firm Innovation Law Lab filed a motion against the Department of Homeland Security in federal court to stop the removal of the two men. "I spoke with their wives, and their brave children who stepped forward and offered to interpret for their crying mothers," said Erin Carter, an attorney and volunteer with ILL. "I placed my ear against the metal bus and strained to hear the men inside, while I shouted into the closed windows to inform them of their basic rights. They told me that ICE had attempted to coerce them into signing forms. Without a lawyer present." Per Oregon Public Broadcasting, one of the men's children cried to his father on the bus, "Papa, Papa, I love you."
One city council member even parked her car in front of the ICE buses, saying, "These are good people who have immigrated to our country. We are right now trying to empty our jails and our prisons because they could be hot spots for COVID-19. The idea of my taxpayer money going towards harassing these individuals is intolerable."
Richter told a local station that ICE agents were required to produce the arrest warrant for the two men if they wanted to detain them in a sanctuary city. Bend, Oregon, is one of thousands of municipalities across the country that refuses to let local police collaborate with federal agents in pursuing and detaining undocumented residents. While Bend Mayor Sally Russell said she had no intention of collaborating with ICE, she encouraged protesters to leave the area "peacefully."
Late in the evening, Bend Police Chief Mike Krantz announced that federal officers would be arriving soon to "ensure the safety of their employees and the people here." Agents arrived at the protest around 11 p.m. local time and quickly dispersed the crowd by spraying people in the face with pepper spray. At midnight, the police department tweeted, "The attendees of the First Amendment event appear to have [dispersed] peacefully."