How prisons profit from controlling incarcerated people's access to the outside world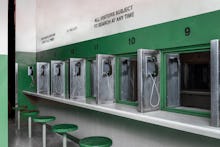 Shutterstock
Zach Schmidkunz has never sent a text in his life. When he was first incarcerated at the North Dakota State Penitentiary in 2003, he had a brick-like phone that didn't do much more than make and receive calls. And while he'll have to enlist the help of family and friends to teach him how to use modern technology as we know it after his release scheduled for 2038, he isn't as out of the loop as some of his fellow incarcerated people who have less access to communication devices. His JPay tablet allows him to watch his sister tuck into a heaping plate of nachos, or watch his nephew hit a home run. In his cell or out in the yard, he listens to Green Day, O.A.R., and Metallica through headphones. The entertainment aspect certainly makes the days go by faster, but what's most important to him — and so many others who own a tablet — is that it helps him feel connected to the outside world.
"I could set up times and talk to people, whereas prior to that, I had to wait in line for the phones," Schmidkunz, 35, who was convicted of murdering family friend, Alexis Walter and is serving 35 years in prison. "Phones shut down a certain time at night, so if you don't call, they're not wondering what happened to you," he tells Mic.
While the tablet's calling capabilities shut off around the time landlines do, users have access to other functions at all hours of the day, including the music and games they've purchased for fees "similarly priced to what you would purchase on iTunes," a JPay spokesperson tells Mic. Schmidkunz has had the tablet since 2017, but only in the last year did he receive a signal from JPay's network to make calls and send email.
"With email, with the WiFi stuff, I could send them messages right from my cell all day," says Schmidkunz. When asked if Schmidkunz uses an LTE or 3G signal in order to place calls and send email from his cell, he said "I have absolutely no idea what that means."
When he's not sending emails, he's loading his online basket on the JPay's commissary app with items like coffee, stamps, and clothing. In his world, it provides him with a pseudo online shopping experience akin to Amazon for individuals on the outside.
At the maximum-security prison, what started out in 2011 as a basic kiosk with email evolved into something to the effect of a barebones Apple iPad that could be used in the relative privacy of a cell. According to Travis, a case manager at the prison who prefers to not have his last name included, the majority of the prison population at North Dakota State Penitentiary owns a JPay tablet. "A tier is a row of cells basically. Where Zach lives, there's 23 guys on that tier and 21 of them have JPay," he tells Mic.
The implementation of prison-issued tablets has been met with widespread criticism. The Prison Policy Initiative posits that these telecom companies are less concerned about the welfare of incarcerated people, and more about generating revenues, and in certain states, guaranteed commission for the Department of Corrections (DOC) as well as private prisons. Inmates like Zach use the device to feel more connected to the outside world, but others feel they're another tactic to control inmates and profit off of their tablet use. He admits that owning the tablet is another incentive to be on his best behavior lest an officer were to threaten to take it away.
JPay, along with its main competitor GTL, serves three quarters of the national market numbering almost 2.3 million incarcerated people. On the GTL new Inspire tablets, users can place calls of up to four hours in their cell. In some states, the GTL tablet is free of charge for all prison users, though like JPay, it requires fees to activate services including games, music and email.
How it works is that prisons sign deals with individual telecommunication vendors, and agree to issue tablets exclusively from that brand for the duration of the term. Incarcerated people are prohibited from using a brand or device of their choosing. In 2017, the New York Department of Corrections and Community Supervision (DOCCS) signed a five-year contract with JPay to issue all 52,000 inmates in New York state a tablet to "access free educational material and eBooks and to file grievances." DOCCS officials projected revenues exceeding $8.8 million from purchases made on these tablets alone, from games to video chats.
While paying per video can add up, it might be a more economical option than phone calling — especially for those whose friends and family are unable to visit in person. But because families of incarcerated loved ones are "some of society's most vulnerable people," according to the Federal Communications Commission (FCC), the FCC is currently working on a plan to lower the exorbitantly high costs associated with making calls to and from prison. Some cities like San Francisco have already began eliminating these calling fees as a way to alleviate the financial burden on inmates' families. For inmates, it currently costs 25 cents a minute to call collect and 21 cents a minute for prepaid calls. On the tablet, users pay for digital "stamps" to use all forms of communication.
According to a JPay spokesperson, a package of 10 stamps costs $3.15, and 20 stamps cost $5.40. Each email costs one stamp, plus an additional stamp for each attachment, like a photo or an e-card. A 20-second video message costs five stamps, while a 30-minute video visitation costs $7.95, and phone call costs vary between facilities. If not provided by the prison for free or for rent, the tablet itself ranges from $69 to $129 depending on the model and location of the prison.
Similarly, GTL tablets are either free for incarcerated people in states like Georgia, Missouri and Floria, according to The Outline, or cost in the ballpark of $147 in other states. A 15-minute interstate call costs $6.60, or $0.16 per minute.
Schmidkunz's parents believe that the cost of staying connected through the tablet is worth every penny. "Early on, the greatest challenge with communicating with Zach was that we were only able to write U.S. mail," Gail Schmidkunz, Zach's father, tells Mic. "Then with calling, only he could initiate contact. When JPay came onto the scene, we were first able to send email back and forth, which was screened by prison security." The service then developed to allow them to send photos and video clips directly from the JPay app from their smartphones or desktop computers.
Unlike Snapchat or Instagram stories, you can only record and send up to 30 seconds of video at a time on the JPay tablet. But to capture a longer scene, users can record and send multiple videos in a row. "It's nice because he's very, very fond of his nephews, so when they're doing things at the lake or involved in activities, we send him a video, and of course, it brings back memories of him being at the cabin, too," says Gail, who has confirmed he has no conflicts of interest to disclose concerning his relationship with JPay. "He thinks about the days when he could be part of that again."
Sending videos back and forth has strengthened Zach's friendships as well. Shortly after his incarceration, his friends had all begun graduating from college and getting married, making it increasingly more difficult for them to meet him at designated visitation hours. Zach gave his parents a list of friends to notify about JPay so they could more effectively stay in touch. "I can't get anyone to answer their phone anymore these days," Zach says. "Provided that they have their phone set up with the app to alert them that they have a message from me, then it's fantastic."
In many cases, tablets are more physically accessible than phones.
According to U.S. Department of Justice Statistics, approximately 30 percent of prisoners report having a physical disability, and that number grows as the prison population ages. While Zach is otherwise able-bodied, he was immobile for six weeks after foot surgery, which made it difficult to get to the landline and wait for his turn. He was allowed to use the tablet to place calls and send emails right from his infirmary bed. Additionally, videophones are the preferred method of communication for individuals who are hard of hearing or who use sign language to communicate, according to the Center for American Progress, making the JPay a more effective choice than a prison landline that is not equipped with auxiliary aids.
Last year, South Dakota prisons saved $275,400 by replacing their legal aid services and physical law libraries for digital legal databases on the tablets. In response, two South Dakota inmates filed two separate lawsuits against the DOC, citing that the digital law library LexisNexis only provided intermittent access to case law and legal advice, depriving them of meaningful access to the courts. According to a document acquired by HuffPost, JPay made over $405 million in revenues in 2014, while GTL currently boasts an annual revenue of approximately $380 million, according to Owler.
According to Angaza Iman Baha at the Miami Correctional Facility, these tablets also serve as a tool for the DOC to further shelter incarcerated individuals from current events and pop culture. "One of the crazy things about the whole situation is the fact that […] they have been slowly but surely taking away our means to access urban culture. Such as BET and VH1, where we could turn to see the latest things happening in our culture. Now none of this is available but when these tablets get here I am sure that we will be able to purchase access to these means of entertainment," Iman Baha told Indiana Department of Corrections Watch. "This thought hit me the other day and I was like 'Wow, these people really do play a long range game,' developing ways to exploit us years in advance and slowly but surely implementing their moves in ways that we never really feel until it is too late." With prisons limiting access to the outside world, playing catch-up with one's own culture upon release can feel overwhelming, if not impossible.
These tablets are one of many ways the prison system takes advantage of the incarcerated population — financially and otherwise. Commissary prices, as per the Federal Bureau of Prisons, are often on-par with those in traditional retail, but they cost a significant portion or sometimes all of incarcerated peoples' salaries. According to the Prison Policy Initiative, the average inmate spends approximately $947 on commissary items per year, with yearly wages ranging from $180 to $660 in the three states sampled in the study. At government-run facilities in eight states like Alabama, Oklahoma, and Texas, a portion of inmates are not compensated for their labor at all, according to Newsweek. What's more is that due largely to police discrimination and brutality, young people of color now occupy the majority of the prison population. Because they tend to be more able-bodied and have fewer medical conditions, the prison system exploits them at disproportionately higher rates than their older white counterparts, according to research from the journal Radical Criminology.
While prison tablets aren't equipped with a comprehensive network of television channels, nor the most recent blockbuster films, they serve as a taste of what's waiting for incarcerated people upon their release. For Zach, that means learning 35 years' worth of technology, all while aiming to reintegrate into society. "It'll be difficult but necessary," he says. "I have trust in the people that love me."