How to help the Monterey Park, California AAPI community right now
Support these fundraisers and organizations following the deadly Lunar New Year mass shooting.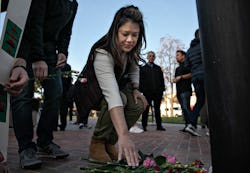 Jason Armond/Los Angeles Times/Getty Images
What was supposed to be a joyous start to the Lunar New Year turned horrific when a gunman opened fire inside a Monterey Park, California dance studio, killing 10 people and wounding 10 more on Saturday night.
It was the deadliest mass shooting since the Uvalde, Texas massacre in May, and the latest in an abominable string of violent attacks against members of the AAPI community; last year, the California Department of Justice reported that anti-Asian hate crimes in the state rose 177.5% from 2020 to 2021.
​​Previously known as "Little Taipei" for its strong Taiwanese community, Monterey Park was the first suburban Chinatown in the U.S. It's now home to 60,000 people, with 62% of residents identifying as Asian. Alejandro Delatorre, a dance instructor who previously worked at the Star Ballroom Dance Studio, the site of this weekend's attack, told The New York Times that the clientele was more than 90% Asian American.
"Regardless of what the intent was, the impact on our community has been really profound," said Connie Chung Joe, CEO of the nonprofit Asian Americans Advancing Justice Southern California, per the Associated Press. "Having this tragedy on one of our most important holidays ... it feels very personal to our community," she said. "There is still that feeling of being targeted, and being fearful, when we hear about a shooting like this."
As the Monterey Park community and the larger AAPI community continue to heal, these fundraisers and organizations are helping — whether through monetary aid, victim memorials, or mental health support.
This verified GoFundMe page has a monetary goal of $500,000, with all proceeds going directly to the victims of this tragedy. The fundraiser is a joint effort by eight organizations: Asian Americans Advancing Justice Southern California, The Asian American Foundation, Asian Pacific Community Fund, Stop AAPI Hate, Gold House, Stand with Asian Americans, AAPI Equity Alliance, and Chinatown Service Center.
Classroom of Compassion, a Los Angeles-based nonprofit that creates beautifully crafted altars for public mourning, is raising funds for 10 altars to honor the 10 victims of the Monterey Park shooting. Donations will go toward resources, supplies, and travel. Once the memorial space is completed, individuals can visit the pop-up site and leave a note or small floral offering.
Stop AAPI Hate, created in response to the growing anti-Asian racism at the height of the COVID-19 pandemic, not only tracks and responds to incidents of discrimination against Asian Americans and Pacific Islanders in the U.S., but also advocates for policy change on the local, state, and national level.
As an extension of the Little Tokyo Service Center (LTSC) in Los Angeles, Changing Tides aims to normalize conversations around mental health through events — like July's Walk for Suicide Prevention — outreach, and education. The organization also helps fund therapy for AAPI youth and young adults through its stipend program. You can donate, and there are also volunteering opportunities for those local to L.A.
Through Jan. 28, the Langley Senior Center in Monterey Park (400 N. Emerson Ave.) will operate as a Survivors Resource Center. Mental health resources will be available on site for anyone who needs them.
Seeking professional help from someone who's of the same or similar cultural background is powerful and effective. This is the aim of the Asian Mental Health Collective, which houses an Asian American Therapist Directory to make mental health services easily accessible.