If you're weird AF, you're gonna love these 40 things on Amazon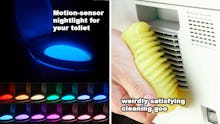 Being a weirdo has its benefits. For one, it doesn't matter what anyone else thinks or says — you're too busy being yourself to care. And two, it gives you the freedom to do whatever the heck you want — like stick a few cat butt magnets on your fridge. So if you're finally ready to embrace your inner oddball, make sure to check out all the weird stuff they've got for sale on Amazon.
Speaking of which, those cat butt magnets weren't a joke. And if you don't like cats? They're also available as dog butts, as well as farm animal butts. But I know what you're thinking: "I'm looking for useful weird stuff, not just weird stuff." In that case, I'd like to direct your attention to the goop that helps you clean out dirty nooks and crannies. Just squish it into any tight space, and it'll instantly latch onto dust, crumbs, or whatever else is dirtying up your home.
So what are you waiting for? With so many weird products available on Amazon, there's absolutely no excuse not to get at least a little weird — or at least buy those cat magnets. They're less than $15, you know.
We only recommend products we love and that we think you will, too. We may receive a portion of sales from products purchased from this article, which was written by our Commerce team.