Instagram's new donation stickers make it easier to give, but can they really make an impact?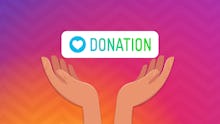 Neil Francisco/Mic
When it comes to donating to charity, the simpler it is, the more likely people are to do it. It can feel practically effortless to give a dollar to a fund when there's a cup on your coffeeshop's counter, to round up the amount of your Seamless order and donate your change at checkout, or send money to the charity of your choice on Facebook's Donate.
Instagram is the latest to lean into this idea with its recently introduced donation stickers, which can be used via Stories to make giving back even simpler.
Available for all U.S. Instagram users, the new stickers will be available to select when you make a new Story post. All you have to do is tap "Donation" in the sticker menu, and the app will let you pick an organization that users watching your Story will be able to donate to directly, just by tapping or clicking on the sticker. Those wishing to contribute don't have to leave the Story to do so, and when the action is complete, the sticker will flip over to a "donated" message, giving the user an extra bit of instant gratification.
As for you, when you post a Story with a Donation sticker, you'll be able to see how much you've raised by swiping up on the Story. The full amount shown will go to the nonprofit of your choice, including organizations like Black Girls Code, ASPCA, Boys and Girls Club of America, No Kid Hungry, and GLAAD. On its website, Instagram states that 100% of the money raised via the stickers will go to the charity you've picked.
Since the Donation feature just launched, it's yet to be seen how popular it'll be with users, but judging by the success of Facebook's similar initiative, Instagram likely has a hit on its hands.
At a 2018 press event, Facebook revealed that its charitable toolset, which can be added to charity pages or individual fundraisers, has led to over $1 billion in donations from 20 million people since it launched in 2015. In the first year of the birthday fundraiser tool alone, $300 million was raised for several different charities. Save the Children Spain told the International Fundraising Congress in 2017 that it saw a 26% increase in donations during the first three weeks of being a donation choice on Facebook.
Users are giving a not-insignificant amount of money through this feature, too. In just a two-year period, around 200,000 Facebook users donated $5 million to the charity No Kid Hungry, at an average of $28 per contribution, according to the Nonprofit Times report. The ASPCA, meanwhile, raised $4.4 million from 170,000 donors at around $26 each.
The number of donations and the amount of money being contributed through Facebook is clearly a positive thing, but many users aren't pleased that there's a processing fee for donating to personal fundraisers, depending on what country the organizer's based in (for the U.S., it's 2.6%). Still, it's better than in the past; up until November 2017, Facebook charged a 5% fee on all donations to charity organizations.
Luckily, Instagram isn't imposing fees on its Donation Sticker, processing or otherwise, so there's a good chance donations on that platform will skyrocket even more quickly than on Facebook. Additionally, the fact that Stories can include visual information makes the motivation to donate even greater than on Facebook; just think of how much more tempted you'd be to contribute to an animal charity if you saw the sticker attached to a feel-good story about how they saved a dog's life, or how inspired you'd be to fund a STEM group if you saw the sticker next to images of young women learning to code.
It's easier than ever to donate to organizations whose missions matter to you these days, and that accessibility has had a clear impact on the number of contributions people are choosing to make. With both Instagram and Facebook on board the easy donation train, perhaps Twitter will be the next major platform to get in line with a similar feature.