The New York AG wants to kick off 2022 by deposing Donald Trump
Trump's shady business dealings may have landed him in another awkward (de)position.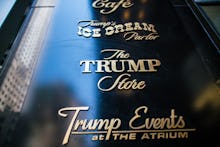 VIEW press/Corbis News/Getty Images
For someone who clearly loves to hear the sound of his own voice, there's probably only one place on Earth where former President Donald Trump isn't thrilled to speak up: in court, under oath, where his biological need to lie, self-congratulate, and ramble incoherently actually carries with it the risk of real consequences and legal jeopardy.
That poses a problem for the potential 2024 GOP presidential candidate. Because if The Washington Post is to be believed (and why shouldn't it be?), New York State Attorney General Letitia James is gearing up to depose Donald Trump just days into the upcoming new year. As the Post reported Thursday, James is seeking a Jan. 7, 2022, deposition date with Trump, as part of her office's far-reaching investigation into the former president's eponymous company and its host of alleged financial crimes. And while neither the Trump Organization nor James's office have officially commented to confirm the reported deposition request, the fact that James has apparently decided to involve the company's namesake himself in her inquiry — happening concurrently with a similar investigation by the Manhattan DA — suggests the entire effort has reached a critical junction.
While Trump loves to threaten lawsuits for any number of slights both real and imagined, he is decidedly less prone to actually following through on his promises of legal retribution. Nevertheless, across his decades-long career of losing money on various scams and grifts, Trump has become quite familiar with the deposition process — often to his own detriment. A single 2007 deposition saw the then-reality TV star busted for lying 30 separate times, which is both staggering and entirely unsurprising. In another deposition, Trump claimed to be unable to name a single instructor from his much vaulted "Trump University" scam.
While it's unclear what, exactly, James is looking to glean from a Trump deposition, her investigation has reportedly zeroed on the Trump Organization's alleged habit of offering different estimated property values for its holdings, claiming they're worth far less when it comes time to pay taxes, while jacking up their price for potential investments.
This past spring, Manhattan District Attorney Cy Vance empaneled a grand jury as part of his office's investigation into potential Trump Organization criminality, while the company's chief financial officer, Allen Weisselberg, has pleaded not guilty to charges of felony tax fraud stemming from the various inquiries.