"Not enough by far": 6 young people react to Congress's pathetically slim $600 stimulus checks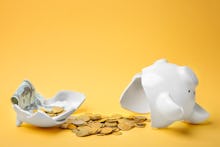 Shutterstock
Looking solely at the total amount of coronavirus cases and fatalities in the United States so far, the numbers are difficult to sit with: over 17 million cases, nearly 311,000 deaths. But even that doesn't fully quantify the pandemic's harms. There's also the estimated $7.2 billion owed in back-rent, the 54 million people facing food insecurity.
In March, Congress passed the $2.2 trillion CARES Act to help address some of the pandemic's reverberations. The relief package included a $1,200 stimulus check that, while welcome in some respects, many critiqued for not actually being enough to help. After all, rent alone in many U.S. cities can easily exceed $1,000. That doesn't account for the cost of transportation, food, utilities, internet, and other necessities. And it is hard to applaud a one-time check when other countries, like Canada, have implemented reoccurring stimulus payments.
For months, people nationwide have waited as Congress debated passing a second coronavirus relief package. Finally, over the weekend, congressional leaders agreed on a $908 billion bipartisan package, complete with a last-minute addition of another round of direct payments to Americans. This time around, however, the checks amount to only $600 per person, if they make $75,000 or less annually.
Even if this bill passes, it would mean the federal government has provided less than $2,000 in aid per person for a pandemic that's stretched nine months and counting. Mic spoke with six people about their initial reactions to the $600 stimulus. For some, the slim figure has induced horror and concerns about what $600 can even do to offset the pandemic's harm. And when it came to their ideal relief package, each of them dreamed far beyond one-time payments.