People are really, really obsessed with these 47 cool things on Amazon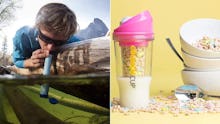 It doesn't take much to be considered "cool." Being a nice person? That's cool. Tipping well on that bar tab? Also cool. But to be so cool that people become obsessed with you — now that's something to brag about. So when I tell you that people are really, really obsessed with the cool products I've gathered for you below, don't be surprised if you wind up adding more than a few to your cart.
And if you think I'm overselling it? Please direct your attention to this sleek serving tray. Not only is it great for breakfast in bed, but its vibrant color paired with gold accents is a must-have — especially if you consider yourself bougie. Or, if you prefer function over fashion, I've also made sure to include these dryer balls made from premium New Zealand wool. They'll help your clothes dry faster, and they're even reusable for thousands of loads. I made the switch years ago — and to be honest, I can't imagine switching back to dryer sheets. Ever.
There's a reason why people are obsessed with these cool products — and it's not just because they're affordable. So what are you waiting for? That serving tray won't be in stock forever, you know.
We only recommend products we love and that we think you will, too. We may receive a portion of sales from products purchased from this article, which was written by our Commerce team.