Could publishing graphic photos of mass shooting victims actually lead to gun control?
Some say publishing the upsetting images is important. Mental health experts aren't so sure.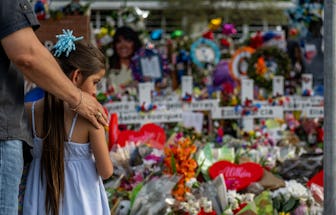 Photo by Brandon Bell/Getty Images
This spring, mass shooting debates heated up once more following the elementary school shooting in Uvalde, Texas, which took place only 10 days after a mass shooting in Buffalo, New York. Online, some began calling for the release of graphic mass shooting images, believing the devastation would force lawmakers into action. Experts, however, don't seem to agree with that analysis.
These conversations aren't new. After the Sandy Hook shooting in 2012, the families of victims debated whether releasing graphic images would be useful. Lenny Pozner, whose 6-year-old son, Noah, died at Sandy Hook Elementary School, thought about showing what the shooter's AR-15-style rifle had done to his son's body. The New York Times wrote: "His first thought: 'It would move some people, change some minds.' His second: 'Not my kid.'"
Since Uvalde, these discussions have reignited, with many invoking Mamie Till's decision to open her son's casket. While mainstream media outlets generally refuse to publish such graphic images on ethical grounds, some journalists are siding with these calls. Immediately after the Uvalde shooting, Nancy Barnes, NPR's senior vice president for news, tweeted, "We cannot sanitize these killings. That in and of itself is an editorial decision."
In a Philadelphia Inquirer column, journalism dean David Boardman and interim medical-school dean Amy Goldberg of Temple University urged journalists to "show the bodies," writing, "Put on display — in newspapers, on television, across the internet — a photograph or three that can, finally, help the American public understand exactly what happens when a weapon designed for modern warfare is unleashed on innocent, unarmed people. Like a 10-year-old at school."
When it comes to releasing graphic images, there's a lot to consider. First: Mass shooting images can often be found online anyway, often because of the shooter themselves. The Buffalo shooter, for example, streamed the event on Twitch. Although the platform took the stream down, the video spread online. I accidentally watched a portion myself. There are no words to describe how I felt after.
But as these debates continue, there are experts with words of caution. The frustrations people feel over the U.S.'s lack of action to end mass shootings is understandable. However, psychologists interviewed by Mic warned that releasing graphic images for their shock value may only re-traumatize communities — without necessarily spurring politicians to act in the way we hope. Here's what they had to say. (Responses have been lightly edited for length and clarity.)