Colleen Anunu wants to put ethics at the center of the coffee conversation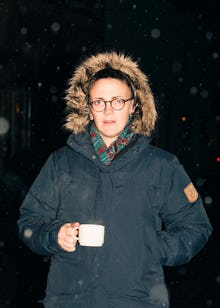 Courtesy of Barista Magazine
At this exact minute, there are countless baristas brewing pour-overs and steaming lattes in coffee shops around the world. Not many of them end up traveling to countries like Brazil and Colombia to source the coffee themselves. Colleen Anunu, Director of Coffee Supply Chain for Fair Trade USA, is one of the rare ones.
Starting as a barista while she attended Ithaca College, Anunu climbed the coffee ladder to become a director for the organization that sets the standards — and raises awareness — for farmers and workers to earn a sustainable living for the product they grow. It was working with coffee producers that led Anunu, also on the Board of Directors for the Specialty Coffee Association, to the role she has with Fair Trade USA today.
Moving from working as a barista in downtown Ithaca to co-managing the roasting department at a more sustainability-focused specialty coffee company, Anunu's path eventually led her to coffee purchasing where she "established long-term purchasing relationships with producers and importers of high quality coffee," as she explains it. It was after getting her master's degree in international development that she joined the Fair Trade USA team. In her current position, she works to support the sale of high-quality coffee and fair-trade certified coffee into the United States.
And it was while working in the specialty coffee industry that Anunu learned how critical fair trade certification was for the coffee market.
"So much of the focus within the specialty sector is focused pretty much primarily on quality and innovation around quality, which is just about sensory attributes and storytelling," she says. "I started to realize that there were a lot of unproven mythologies around what the actual market benefit for differentiated quality was. It's so critical to really understand fair trade as a system for compliance and for market intervention."
With a struggling coffee market currently selling below a dollar a pound, she stresses that fair trade is one of the only mechanisms to support coffee farmers to close the living income gap. Fair Trade USA has been working with Keurig Dr Pepper — the number-one buyer of fair trade coffee in the world — for almost two decades. Anunu and her team started working with Laughing Man® Coffee, a 100% fair-trade certified brand, in 2016 to support them in making a direct investment in their suppliers.
"The Laughing Man Foundation wanted to really maximize their impact of the Fair Trade model and create long-term, deep relationships with those suppliers," Anunu explains.
Fair Trade USA helped match Laughing Man® Coffee with coffee producer cooperative COOCENTRAL, an organization of over 3,000 coffee farmers in Huila, Colombia. The Laughing Man Foundation has since invested in housing improvements and college scholarships for coop members and their families. That support has translated into grants that have improved the infrastructure — plumbing, roofs, and more — of 144 homes and provided 45 college scholarships to coop members's families, giving them the chance to improve their own quality of life and as well as that of younger generations.
Those kinds of real-life benefits contextualize the effects of fair trade in everyday terms. If you're buying a coffee that's $9 per pound at the grocery store, there are many costs within that price and, as Anunu explains, often consumers don't know what the coffee producer has been paid. When you see the fair trade seal, you know at least that the minimum price of $1.40 per pound — or $1.70 per pound for organic coffees — is being paid to producer organizations. It also guarantees that those cooperatives will receive a $.20 per pound premium that can be invested into their communities.
For Anunu, working with cooperatives like COOCENTRAL and connecting them with brands like Laughing Man® Coffee allows her to reconceptualize what partnerships can look like when they value, first and foremost, ethics that allow farmers and their families to make a living from the product they've been invested in for generations.
"When you find a company and a brand that really cares about that, and you make a business model that puts producers at the center," she says, "you can show the rest of the world that these are the things that we need to be doing together, in order to solve some of the world's most critical challenges of hunger and education and dignified living. You can't put any words or money value on that."
This article was sponsored by Laughing Man® Coffee.