COOCENTRAL director Luis Mauricio Rivera Vargas works to ensure coffee producers have a better life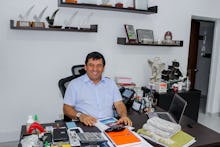 Image courtesy of Luis Mauricio Rivera Vargas.
In our current global economy, it is more important than ever to look out for local producers. For coffee producers in Colombia, this care comes from the cooperative COOCENTRAL, who aid producers with loans, technical assistance, market access, social investment programs for their families, and so much more. Made up of 3,500 members, mostly small coffee producers, COOCENTRAL does not take any money from the state but relies on contributions from members every time they sell their coffee. In return, COOCENTRAL creates better business avenues and provides for the needs of their sellers, whether through social and infrastructural advancements as well as maintaining a better price point for their product.
At the center of COOCENTRAL is director Luis Mauricio Rivera Vargas. Anyone who's interacted with COOCENTRAL or benefited from any of their programs has felt the touch of Mauricio's life's work. Based in Garzon, the center of Huila, Colombia, Mauricio has been the director of COOCENTRAL since 2000 but his life in coffee started far earlier. "I have been a coffee grower for a little over 27 years," Mauricio maintains. "Coffee became something more important in my life as soon as I had the fortune to graduate [with a degree in agronomy, later joining] the National Federation of Coffee Growers. Almost all of my professional life I have worked in coffee production, sales, and in the promotion of coffee."
At the National Federation of Coffee Growers, Mauricio got to know other coffee producers and hear their problems. For Mauricio, the igniting incident that inspired his cooperative career happened in 1991, the year of the coffee crisis in Colombia, when buying prices for the country's coffee plummeted due to the crumbling of the International Coffee Agreement – which protected rates of exports going into the US – as well as export growth from competing countries like Brazil and Vietnam who sold their coffee cheaper. "The coffee crisis...destroyed whole coffee farms in our country. From that moment, all of my personal and professional life has revolved around coffee and [it] has become the engine propelling personal, professional, regional, economic, and social development. My entire life revolves around the wellbeing and the positive impact coffee generates for our region."
This November, COOCENTRAL will have been serving the coffee producers of Huila for 44 years. Their service is essential in helping farmers to earn a livable wage while also creating opportunities for their families. Talking with Mauricio, it becomes evident how important the cooperative model is for small businesses trying to compete against multinational corporations. "Cooperativism is undoubtedly the most important tool of an agricultural producer in Colombia, or to coffee production more specifically, in order for coffee producers to turn coffee farming into a profitable and productive business enterprise." While Mauricio first joined the group out of necessity for his own business, he has since been promoted to director of the organization which enables him to take his life's learnings and visualize a new path forward for the organization. "[When I received] the opportunity to be the cooperative's manager, [it] allowed me to visualize COOCENTRAL as a large organization at the service of coffee growers, an organization dedicated to regional development through coffee. An organization that generates social development, employment, economic development, [and] above all that generates [a better sense of] well being [for producers and their families] – that is what I visualized for COOCENTRAL."
One of the biggest obstacles facing Mauricio and others farming coffee in Huila is the reliance of selling coffee with prices based on the New York Stock Exchange. While other coffee may not have the heritage and robust taste associated with the region of Huila, those prices still affect farmers who have been producing coffee as a means of getting by for generations. One way COOCENTRAL helps to level the playing field for their producers is through partnerships with bigger organizations, like COOCENTRAL's recent partnership with Laughing Man® Coffee and Fair Trade USA. Generating visibility for their cause is tough, and having Laughing Man® Coffee bring celebrities into the fold has benefited COOCENTRAL immensely.
"Any person who helps us to promote the wellbeing of our producers with total and absolute transparency for us [is] magnificent. The mere ability to interact...with all of the people from the Laughing Man Foundation has been extraordinary for us, practically changing the history of the cooperative," Mauricio says. Through their partnership with Laughing Man® Coffee, COOCENTRAL has been able to offer educational scholarships to their members, as well as their families, to explore higher education and the opportunities that come with it. Through a fully democratic application process, members and their families can apply for grants to offset the costs of enrolling in universities.
"We count more than 300 children of members in the university [through our scholarship program], and we have improved more than 1,200 homes [through infrastructural subsidies], we [also] support members with insurance policies and pensions. These indicators definitively mark the impact that the cooperative has on employees and members." In a region where coffee farming is the main source of agricultural capital, these changes are significant. "Thanks to COOCENTRAL, these people can have a more dignified way of life, they can feed their families better, they have a more dignified place to live, children have been able to study, members have better access to differentiated markets, and so much more."
While Mauricio's work with COOCENTRAL is based in helping his own community, he isn't shy when talking about the transforming effect the work has had on his own life. "I believe that COOCENTRAL changed my life as a person, as a professional, as a coffee farmer, as a human being," Mauricio says. "I owe practically everything I am today to COOCENTRAL."
This article was sponsored by Laughing Man® Coffee.