For the Cardenas family, coffee has always been a way of life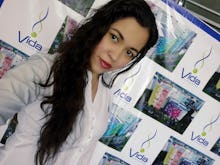 Yessica Lorena Rios Cardenas , courtesy of COOCENTRAL.
Yessica Lorena Rios Cardenas cannot recall the first time she drank coffee as coffee has always been around her, "from birth to present day." For the past 25 years, her mother Betty has operated a small coffee farm in the town of Villa Florida in Huila, Colombia, located at the base of the eastern mountain range of the Nevado del Huila just off of the Río Guarumito. Yessica recalls Betty waking her and her sisters up each day at 6am with a rich and hot cup of coffee before heading off to the farm. She considered this her favorite part of the day as she got to enjoy "the flavors and endless complexities of coffee."
In Villa Florida, the coffee's complexities come from a myriad of different influences. There's the close proximity to other tropical crops that grow natively in the region – trees with all sorts of different citrus and passion fruits, Guanábana, and bananas – but the coffee also owes its particular flavor due to the tireless dedication of her mother Betty. A member of Huila's COOCENTRAL – a cooperative, associative nonprofit and social interest enterprise that is committed to environmentally sustainable and socially responsible business practices – the Cardenas family tries to strike a harmonious balance between the land and its people, as they have always had what Yessica describes as "a high sense of responsibility with the environment."
Yessica realizes the importance of her mother's work and commitment to environmental and socially responsible business practices, as she's seen the effects of climate change, industrialization, and a fluctuating market on her family's business. "Both my community and my family face the same problems every day, mainly low coffee prices, which depend on the behavior of the dollar on the global level (dollar-peso exchange rate), the New York Stock Exchange, the premium for Colombian coffee, [and the competition] of coffee [from] other countries (mainly Brazil)," Yessica says. "It is very difficult for small coffee producers to survive with the high cost of production and the low selling price."
To help them in their fight for fairer wages, COOCENTRAL teamed up with Fair Trade USA and the Laughing Man Foundation to get better rates for their product as well as to provide equity programs for the families making it. One program in particular allocates resources for the purpose of granting educational scholarships to the children of COOCENTRAL's members. With the majority of Huila's workforce invested in agriculture, Yessica saw this as a way of opening up opportunities for her family. She applied and earlier this year, she was given a grant from COOCENTRAL.
"Thanks to the agreement between COOCENTRAL, Fair Trade USA, and the Laughing Man Foundation, I have had financial support for the payment of my academic enrollment in the Universidad del Valle, which gives me greater possibilities to study a professional career." Enrolled in a night program for Business Administration at the Universidad del Valle, in the city of Cali, Yessica wants to help those like her own family achieve economic prosperity and a brighter future. "For the future I want to be a successful administrative professional, improve my quality of life and that of my family, support my mother in her work with the knowledge acquired through academic and hands-on training," Yessica says, "in addition to exploring other cultures and ways of life."
Giving back to the community that raised her is essential for Yessica as she trains for a new career. She hopes to be as determined as her mother in providing opportunities for her family and to use her education to follow her dreams wherever they may take her. "Success for me is to find my passion and be happy living it," Yessica maintains. "It is to achieve a dream, a longing, a goal; in a few words: it is to achieve my purpose in life."
This article was sponsored by Laughing Man® Coffee.