This highly-rated cordless drill is less than $50 on Amazon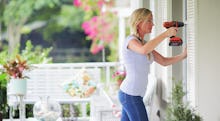 Amazon
For more convenience and portability when you're working around the house, yard, and beyond, you'll need one of the best cordless drills on hand. These lightweight, battery-operated drills provide greater flexibility than standard corded ones — and if you find the right option, it'll offer the power most jobs require, too. Since they rely on batteries for power, these might not be the best choice for really big jobs, but for everything from hanging a picture to building a platform, it's usually plenty to get the job done. Plus, you don't have to worry about whether you're close to an outlet or if you might have a long extension cord.
There are hundreds of different models you can get, so when you're trying to choose the best cordless drill for your next project, there are a few things you should consider. The first is the voltage. For small home repairs and assembling Ikea furniture, a 12-volt drill or less will suffice. If you're working on a building or bigger renovation project, you will likely need to drill through aluminum and other tough materials, so you'll probably prefer a more powerful, but larger, 18-volt drill.
Make sure to also select a drill that holds up charge after charge. Older models with batteries that died after one or two years often had NiCad batteries (which are cheaper than lithium ion), and are also heavier and limited to about 1,000 charges.
To help you find the perfect tool for your projects, here's my list of the best cordless drills. Reviewers agree that these drills have the voltage and battery life to make your renovations and other projects a breeze.