The best stylus-compatible tablets for notetakers and artists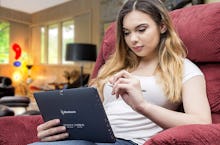 Amazon
Whether you're trying to get things done or stay entertained while on the go, one of the best tablets with a stylus can make work and play easier. These portable smart devices are lighter than most laptops, making them convenient to take with you anywhere. Plus, when they come with a stylus, you get more functionality like writing and drawing with precision.
When you're shopping around, there are a few things you should consider. The first is the display size. Most tablets screens vary from 7 to 10 inches in size. If you'll be using it to watch Netflix, you'll want a larger display with a high-resolution screen for the best viewing experience. Bigger tablets are ideal for drawing, too. However, a smaller model can be easier to tuck into a bag or backpack.
For writing, emailing, and note-taking, you might want to add accessories like a keyboard or a kickstand. If you decide those things would benefit you, be sure to pick a tablet model with a lot of compatible choices. If you plan on downloading a lot of documents, videos or music, you'll likely want a minimum of 32 gigabytes of internal space or with an option like a MicroSD card slot to upgrade storage.
To help you pick the perfect device for your needs, here's my roundup of the best tablets with stylus. These top-rated tablets have all the features to make watching, browsing, listening, writing, and drawing super easy.