The best camera bags on Amazon, according to photography buffs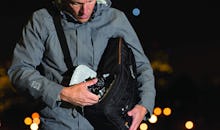 Amazon
Whether you're a hobbyist or a professional photographer, to carry all of your gear safely and easily, you'll want one of the best camera sling bags. With just a single shoulder strap, these camera packs can be quickly swung around to the front when you need a lens, tripod, and other accessory quickly. They free you up to stay in the moment and help make sure you don't leave a lens or other accessory at home.
Camera sling bags come in a variety of sizes and styles. So, your equipment setup and where you're headed are important to consider when choosing the best for your needs. If you're traveling with luggage, a compact camera bag that's small enough to either fit in your carry-on or clip onto your roller suitcase is nice way to streamline your gear. And no matter what kind of bag you're buying, make sure to check that there are straps included to keep your tripod secure if you'll be using one.
A good quality camera sling bag should also be able to protect your equipment from the weather, either with a rain cover or with water-resistant materials. What's more, if you're planning on shooting outside or in crowded areas, it's a good idea to look for a pack with added padding and protection to keep your valuable gear safe.
To make your search for the perfect camera bag easy, here's my list of the best camera sling bags to haul your gear in style. All of these top-rated bags are weather-resistant with plenty of storage.