These are the best TV's you can buy for under $100 on Amazon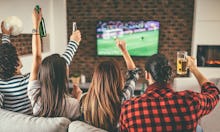 Fotolia/Milanmarkovic78
Just because you're on a budget doesn't mean you can't get a great new television. If you know where to look, you can find the best cheap TVs under $100 or less with many of the same features as more pricey brands, like 1080p high-resolution picture quality and streaming abilities to fully enjoy all of your favorite shows and movies.
TVs are available in a variety of sizes and styles. So, when you're shopping for the best cheap televisions to match both your budget and space, be sure to consider where you'll be using it. The needs of a small dorm and a large living room are different. Remember that although the picture quality is essential in a TV set, having features like 4K HD is nice but not necessary for most people to have a great viewing experience — 720p to 1080p HD resolution will provide you with plenty of sharpness and clarity.
However, you'll want to check for compatibility to ensure your new TV has all the inputs you need to connect your speakers, sound bar, gaming systems, or any other devices. And if you like to stream directly from Netflix, Amazon Prime, or Hulu, look for a smart device or one with HDMI compatibility to use with Chromecast, Roku, Apple TV, or an Amazon Fire Stick.
To help narrow your search down, here's my list of the best cheap TVs under $100. These top-rated television sets all have good picture quality, ample inputs, and enough features to let you enjoy TV for less.