The best carry-on luggage for international travel, according to frequent flyers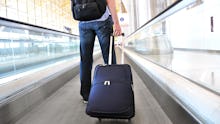 Shutterstock/Alexander Chaikin
If you've ever traveled abroad, then you know that airline restrictions are often much more stringent than they are for domestic flights. The best international carry-on luggage will help ensure you meet the sizing guidelines so that you don't have to check a nice suit or an expensive camera at the gate.
The first and foremost consideration for a carry-on is size. Restrictions vary widely by airline. While many domestic carriers allow up to 22 inches in length, international airlines often limit you to 18 inches — and that's with the wheels and handles. For this reason, it's wise to keep your bag dimensions well within the international carry on luggage size limit, even if it means you can't pack quite as much. To play it safe, you should always look up the specific restrictions for the airline you'll be flying with.
Related to this is your choice of wheels (that is, if you do prefer a bag with wheels). Spinner wheels rotate a full 360-degrees and often feel smoother in the airport. However, they also take up more room and eat into your packable space. Roller wheels, on the other hand, only move forward and backward, but they're smoother on bumpy surfaces, like sidewalks, and they aren't as bulky.
Beyond sizing and wheels, think about the material (you want tough, durable fabrics) and interior features (such as pockets, zippers, and pouches). It's also nice to have a sturdy handle (aluminum telescoping styles are generally the best) and an extra pocket on the outside for quick access.
With these considerations in mind, check out the best international carry-on luggage below. I've included standard roller suitcases, as well as smaller, wheel-free options.