This highly rated power drill is just $50 on Amazon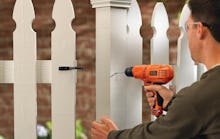 Amazon
Power drills aren't just for serious DIYers. Even people who only occasionally do minor home repairs, installations, or put together Ikea furniture can find them handy and a great way to speed up the process. The best power drills allow you to easily tackle bigger jobs. If you want something for occasional use, there are plenty of options with a smaller price tag. You might sacrifice some power and capabilities, but you'll be all set to install wall decor and make minor fixes.
Most drills, especially the ones a non-professional would buy, are drill-driver combos. That means the power drill can drill holes at high speeds and drive in screws at lower speeds. And while some, but not all, come with one or two bits to get you started, it's smart to buy an additional drill and screwdriver bit set for greater capabilities.
Power drills come in both corded and non-corded models. Today, with advances in battery technology making them lighter and longer-lasting than before, cordless drills are more popular with most people since they give more mobility and freedom. However, if you will be primarily using your drill at a workbench, corded models are generally lighter since they don't require a battery. They can also be more powerful, though not always.
But no matter what your aspirations, there's a power drill for you. Below, the best choices for every home and DIY skill level.