The 5 best tablets for reading, according to reviewers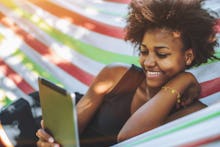 skyNext / Shutterstock
If you're a book lover who likes to read on the go, having one of the best tablets for reading in your bag or backpack is essential. But not every tablet is ideal for reading, which is why it's important to look for the right combination of features, like storage capacity and an eye-friendly screen.
True tablets vs. e-readers
The first decision to make is whether to go with a true tablet or an e-reader. Although e-readers and tablets look very similar, they can vary widely in terms of specs. The average Kindle e-reader generally has 4 to 8 GB of storage, though some have as much as 32 GB. While many people don't need more than 32 GB of storage for reading books, some tablets offer as many as 128 GB. Depending on how you'd like to use your tablet, you might want an option with more storage.
Unlike e-readers, true tablets are for more than just reading books — they also give you the option to listen to music, watch Netflix, or catch up on emails. However, tablet screens aren't always optimized for reading and can be a little more harsh on your eyes. They also tend to have a shorter battery life. If you just plan to read on your device, an e-reader will do the trick, but if you want more versatility, you should probably go with a true tablet.
Screens
To make reading more comfortable for long periods of time, look for a tablet with a glare-free screen and a dimmable mode. The option to adjust brightness and dim your screen based on your lighting conditions can help prevent eye strain, especially at night. And while a tablet with a standard 6-inch screen is great for portability (not to mention, often more affordable), some people might prefer a bigger screen. To ensure the text and images on your reader are clear with the best resolution, look for a tablet with a minimum of a 250 to 300 pixels per inch (PPI) or higher resolution.
Finally, if you'll be reading poolside or at the beach, or taking your tablet outside on rainy days, you may want to splurge for a tablet that's water-resistant.
With all that in mind, scroll on for the best reading tablets you can find on Amazon.
We only recommend products we love and that we think you will, too. We may receive a portion of sales from products purchased from this article, which was written by our Commerce team.