These are the best tablets if plan to watch a lot of movies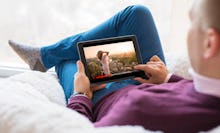 Kaspars Grinvalds/Fotolia
Tablets make it easy to stream your favorite movies on the go, but not all of them are created equal. Popular streaming apps like Netflix, Hulu, Amazon Prime Video, or Apple TV often perform better on some tablets due to the model and its features. For the ultimate streaming experience, you'll need one of the best tablets for watching movies specifically.
There are plenty of different options available from the Apple iPad to Android-based tablets, Amazon Fire, and more. However, some are best suited for specific streaming apps. For example, the iPad is fully integrated with iPhones and Apple TVs, while the Amazon Fire tablets are designed to provide Amazon users with easy access to their Amazon account, Amazon Prime Video, and downloads. When you're shopping for the perfect tablet, consider which platform would suit you best, though most tablets will be compatible with a variety of apps.
The display quality and size will also be big determining factors. The best tablets for watching movies should have an LCD screen with a high resolution. Most tablets range from 7 inches to 10 inches in size. The larger the screen, the easier it is to view — but keep in mind that these larger devices won't be as portable, so they might not be as good for watching videos on the plane. You'll also want to make sure that your tablet has a long-lasting battery life.
To make selecting a stream-worthy tablet easy, here's a roundup of the best tablets for watching movies. All of these options are top-rated with quality streaming capabilities to match.