These whiskey stones keep your spirits chilled & potent — & they're all on Amazon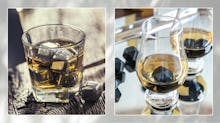 Mic / Amazon
If you landed here, you're probably already familiar with whiskey stones, but for the uninitiated, think of them as essentially reusable ice cubes that chill your spirit without diluting it. The best whiskey stones are made of stainless steel, granite, or soapstone; you may prefer one over the other depending on how chilled you like your whiskey.
Below you'll find a guide to each material, but first, let's address the elephant in the room: How do stones measure up to ice?
Whiskey stones vs. ice
Whiskey stones keep the flavor of your drinks pure (and potent). Ice is admittedly more effective at cooling (and will hold that chill longer if you're a slow sipper), but keep in mind a deep chill isn't always best: Once whiskey gets to a temperature near 45 degrees Fahrenheit, most of the flavor is lost.
Stone material
Stainless steel whiskey stones are almost as cold as ice — one stone will chill your drink an average of 12 degrees — and stainless steel keeps your drinks cold longer than stone, as well. Stainless steel whiskey stones are nonporous (i.e. they don't absorb flavors or odors), rust-resistant, and borderline corrosion-proof. They're also more durable than soapstone and less likely to scratch your glasses. However, they're decidedly more expensive than natural stone.
Soapstone whiskey stones are the more traditional option, but you should be prepared to add more stones to your glass. Each soapstone cube can chill your drink about 5 degrees Fahrenheit at a time (and it takes about three to equal one ice cube). The nonporous rock doesn't absorb odors or flavors, but they won't wash up as easily as stainless steel. That said, they're the most affordable option on this list.
Granite whiskey stones are good-looking, durable, and have great chilling power but may be more likely to scratch thin glassware since they're harder than soapstone.
Whichever material you opt for, remember to leave them in the freezer for a few hours before use.
We only recommend products we love and that we think you will, too. We may receive a portion of sales from products purchased from this article, which was written by our Commerce team.