The 48 cheapest, most clever things trending on Amazon now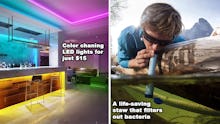 I have to be honest: whenever I see something that looks brilliant but is really cheap, I hesitate to buy it. I've been burned by promising products that didn't live up to the hype before, but I also don't want to miss out on some of the most affordable, clever things that can make life so much easier.
One way to suss out extraordinary products from something that's just going to fall apart in a few days is to read the reviews. Let's be real: great products with tons of Amazon reviews tend to have so many 5-star ratings because people can't believe how amazing a product is. I know I've raced to my laptop a time or two (or three) when I find something truly genius and I need everyone to know about it.
And, honestly, a lot of really great products aren't even that complicated, which can explain why they're so affordable. Take this salad spinner, for example. There are only a few moving parts to this appliance, yet it helps a ton to clean your greens and keep your salad fresh for longer.
There are tons of great finds on Amazon that are high-quality and affordable, if you know where to look. Here's a round-up of products that reviewers can't seem to get enough of.