Calling all cyclists, these 5 panniers store everything from groceries to gear — & yes, you need one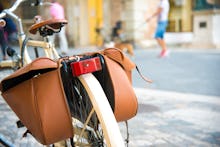 Natasha-Aleksandra / Shutterstock
Impact
By
Ileana Morales Valentine
When a bicycle is a main transportation mode, consider adding one of the best bike panniers to your gear. Panniers are designed to securely attach to a bike rack (rear or front) yet easily detach upon arrival. Finding the best one comes down to use: whether that's commuting, touring, or groceries shopping. More spacious than a standard basket, panniers hold it all, some even convert to backpacks or shoulder bags. Those intended to hold shopping bags fold down for storage after a ride.
Choose a bag big enough without being so large that it interferes with pedaling or carrying. About 26 liters is typical, though this capacity may be distributed between the pair. Since panniers often come as a set, they generally attach to each other to become a single bag off the bike. Touring or camping cyclists can benefit from a bigger bag, up to about 40 liters.
Backpack- or shoulder-bag panniers usually have exterior pockets for easy access to phone or keys, but zippered pockets are best. Most options are waterproof or water-resistant, and are made of rubberized or synthetic materials, like 600-denier polyester. Water-resistant panniers are good enough for most commuters, but for longer adventures opt for a waterproof bag's security. It's also nice when panniers have reflectors for added visibility, especially at night.
The best panniers should be easily mounted and removed. While bike panniers attach to bike racks with hooks, clips, or cords, they don't come with racks.
With all this in mind, keep scrolling for the best bike panniers to take the weight off your back.