5 Highly rated computer speakers under $50 on Amazon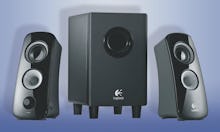 Amazon / Mic
Whether you're listening to music, watching movies, or playing games, you'll need a good set of desktop speakers for quality sound. However, you don't have to spend a fortune for a great experience if you know what to look for in the best computer speakers under $50.
When you're shopping around for the best computer speakers, sound quality should be one of the first things on your list. You'll want a set of speakers that make your music, movies, and games sound richer and fuller. Next, look for speakers with accessible volume controls to make it easier to turn it up or down. Computer speakers with multiple connections and control options, as well as easy setup, are also helpful.
There are a lot of options out there so it's essential to consider your desk's size and needs as well in order to find the best fit for you. If you don't have much space at your desk or workstation, look for a more compact set or consider a sound bar which tend to provide excellent sound quality and powerful bass while remaining very thin. And although Bluetooth isn't a must-have for some, it's an excellent option if you're hooking the speakers up to a laptop or just want greater choice over where to place them.
So, for the best computer speakers under $50, here are my top picks. All of these computer speakers are top-rated and available on Amazon.