The 5 Best Wireless Headphones For TV Listening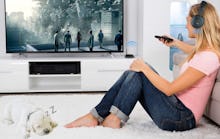 Amazon
If you want to enjoy your favorite television series, movies, and even video games without bothering your roommates or family members — or are looking to cut out the noise around you while you relax with your shows — you'll need the best wireless headphones for TV listening. Wireless headphones are a convenient way to freely listen to television shows or movies at the volume you want without being tethered to your computer. Best yet, many of these headphones deliver better sound quality than your built-in TV speakers.
There are tons of different wireless headphones. So, when you're shopping for ones specifically for streaming TV audio, you should consider a few things. The first is your comfort. If you're watching something of movie length, you'll be wearing headphones for at least an hour and a half so for headband-style headphones, choose a pair with padded ear cups and an adjustable band. For earbuds, look for soft ear tips with multiple sizes for the best fit.
The best wireless headphones for TV listening should also have a fast Bluetooth 4.0 connection or higher to avoid lag. For larger spaces, remember that it's necessary to opt for wireless headphones with Bluetooth signals capable of longer ranges. If you live in a noisy household you'd like to block out or will be watching on the road, noise-canceling features are good to have, too. To make sure you don't lose power in the middle of your Netflix session, you'll also want headphones with a long-lasting battery life.
To make choosing the perfect pair easier, I've found the best wireless headphones for TV listening. All are top-rated and feature high-quality sound.