These $20 wireless headphones have over 24,000 positive reviews on Amazon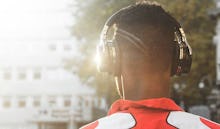 Amazon
Wireless headphones give you the freedom to take your music and audio wherever you go. They can vary in features and styles so to find the best wireless headphones on Amazon to satisfy both your audio listening needs and budget, you'll need to consider what's most important to you.
Are you addicted to your Spotify playlist and need a pair of headphones with quality sound to do each track justice? If so, you'll want a pair of headphones with noise-canceling or noise-reducing features for better sound and to cut out the distractions. Or, are you looking for the best-priced pair that's still able to handle day to day use? Most likely, you'll need wireless headphones with a long-lasting battery life and at least Bluetooth 4.0 to connect to your device with minimal lag.
When you're shopping around for the best wireless headphones, comfort is essential, too. Look for headphones that have adjustable headbands and padded ear cups for a comfortable fit. For earbuds, many prefer models that include multiple ear-tip sizes. If you plan on taking your headphones outside for yard work, running, or cycling — or know you'll be working out in them — opt for a water-resistant pair with an IPX5 water-resistance rating or higher to handle sweat or light rain without damage.
To make shopping for your best pair easier, here's my roundup of the best wireless headphones on Amazon to meet a range of budgets and uses. These top picks all have positive reviews, quality sound, and a variety of features to help keep your jam session or podcast going.