Staring at your computer all day? These 6 blue-light glasses will actually cut down on the strain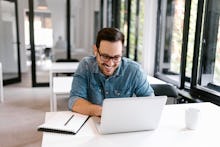 Shutterstock
If you spend hours each day staring at a screen, wearing a pair of the best computer glasses is an easy way to protect against digital eye strain. Both computer screens and smartphones emit blue light, and too much exposure to blue light can contribute to eye strain, with symptoms like dry, red eyes and headaches, according to the American Optometric Association. So, if you work at a computer for long hours or just spend a lot of time watching, gaming, and scrolling, blue-light glasses can actually make a difference. Of course, it's a good idea to talk to your optometrist if you're experiencing severe symptoms.
All of the glasses below will block a significant amount of blue light and glare to keep your eyes happy and healthy, without a prescription. To decide which pair is best for you, it comes down to your preferred frame style and whether you want a visible tinted lens. Amber- and brown-tinted glasses are believed to help reduce glare while blocking out blue light. Yellow-tinted glasses, on the other hand, help improve contrast. However, not everybody wants the look of a tinted pair. Some of these picks also provide magnification, so they work as reading glasses, as well.
To find the best pair to suit your needs and style, scroll on for the best blue-light blocking glasses. They're almost all under $25 and might even might help you sleep better, too.
We only recommend products we love and that we think you will, too. We may receive a portion of sales from products purchased from this article, which was written by our Commerce team.