These are the best headphones on Amazon, according to tons of reviewers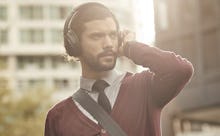 Amazon
Not all headphones are made equal. So, with thousands of different options available online, choosing the best headphones on Amazon for your audio needs can be tough. They can vary in style, sound quality, features, and price — and the best choice for you will depend on your specific needs and requirements.
When shopping around for the best pair for you, there are a few things you should keep in mind. The first are your personal must-have features. To choose and narrow these essentials down, consider how you'll be using your headphones. For example, if you want a pair to use for intense workouts at the gym or running outdoors, you'll want buds that are wireless and also sweat-proof. Look for headphones with an IPX6 rating (water-resistant level) or higher to handle both sweat and rain.
Whether you prefer over-the-ear, open-ear, or in-ear buds, the best headphones should be comfortable to wear. Check for features like an adjustable headband or earbuds with ergonomic ear tips. Some even offer multiple ear tips to choose from for optimal fit. Sound isolation or noise-cancellation are also worth considering if you'll be using them at night or during travel.
So, before you go shopping, check out this list of the best headphones on Amazon to consider. All of these headphones are top-rated by customers on Amazon with a wide range of features and styles to suit your audio needs and budget.