Beyond the rainbow: An abridged history of Pride flags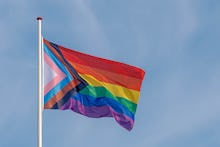 Shutterstock
This month, rainbows are everywhere in celebration of Pride, as the rainbow flag has become ubiquitous with the LGBTQ community. But if you've ever been to a Pride event then you know that the rainbow flag is never the only one to make an appearance. With all of the Pride flags flying around, it can be hard to keep track of each one. Don't worry, though, because I'm here to help break down the different Pride flag meanings.
Sometimes, people like to dismiss any flag that isn't the rainbow one. Why would you need your own design, after all? Here's the thing: While the rainbow flag is great, not everybody feels represented by it. To some, that flag only represents small subsections of the LGBTQ+ community — namely, cisgender white men. So from the bisexual Pride flag to the transgender Pride flag to the Philadelphia Pride flag, people across the world have designed their own flags to ensure that their communities are being celebrated.
Knowing the history and meaning behind different Pride flags can help you appreciate them better. Although this is far from a comprehensive list, let's take a look at six of the more popular flags that you're likely to come across.