Family values are at the heart of Sandra Alvarado's coffee practice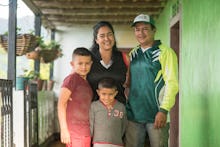 The Alvarado family, taken by photographer James Fabián Díaz on behalf of Fair Trade USA in May 2019.
Sandra Milena Mora Alvarado is a coffee producer, mother, and wife from Huila, Colombia. Growing up in a family that's been producing coffee in the area for generations, she fell into the industry naturally, beginning her own farm at the ripe age of 20 years old.
"I [had] always been fascinated by [coffee]. I began [working with coffee by] supporting my mother after finishing classes. [Other times I would help] my father to pick coffee cherries. When I started my own family, I dedicated myself to every aspect of coffee production," Alvarado says. "For my family, this work is fundamental; it is our cultural heritage and the heritage of many generations."
This specific cultural heritage started for her family over 60 years ago, when Alvarado's grandparents first began harvesting coffee in Huila. Alvarado comes at her work with love and passion, using her family's example to strive for a truly perfect product. "I make sure to pick only the ripest cherries, to be selective in my sorting, drying in ideal conditions, and working on ways to improve my fermentation process."
While Alvarado knew the coffee her family had perfected was exceptional, she didn't think the whole world would know, that is, until she got tapped by the folks at Laughing Man® Coffee. "I never thought it would be possible to get a world-class foundation to choose me and my family to make a commercial, and with a movie star no less. [Since then] everything [has] changed for me, both professionally and personally," Alvarado says. "I became a confident woman capable of facing any obstacle, enterprising, efficient and helpful, with a passion to teach and share my knowledge."
Along with Fair Trade protections and the support of a global brand, Alvarado's received support in her daily life from the partnership. "'[Through Laughing Man® Coffee], I received the support to improve my home's infrastructure [and now] I feel happier and more comfortable in my new kitchen which has been remodeled," Alvarado says. "It was the best experience of my life."
While her family has endured financial hardships in the past, they are currently economically stable which she says is due to creating a perfect product. "Since we have dedicated ourselves to improving all aspects of coffee production and processing, we are able to fetch good prices for our coffee and my family and I are doing well."
While her family comes first and foremost, Alvarado has hopes for the future, which involve additional schooling, giving back to her community and helping them to reap the benefits of their cultural heritage. "I hope to embark on a higher education journey and become a trained professional, help my family, and support my community with social development projects that drive them to succeed in their coffee businesses."
For Alvarado, the idea of success is not just in personal achievement, but in putting forward a good example so that others can learn and follow in your footsteps. "For me, the word 'success' is synonymous with effort and dedication, the discipline of trying to achieve each ideal and make every dream come true, to be an example and model to follow," Alvarado says. "[Success means helping and guiding] my children so that they look toward the future." For Alvarado, success means keeping her cultural heritage alive.
This article was sponsored by Laughing Man® Coffee.